Watch Thor Become Mightily Possessed In This Avengers: Age Of Ultron Deleted Scene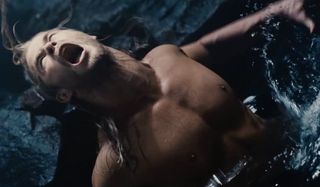 Avengers: Age of Ultron had so much content that we have only begun to get a glimpse of what made it to the cutting room floor. With an original runtime of 195 minutes, there are plenty of deleted scenes to open up and dissect. Check out one of the more interesting one's involving Thor (Chris Hemsworth) below:
The deleted scene expands upon one of the theatrical cuts most confusing scenes. Thor – accompanied by Dr. Erik Selvig (Stellan Skarsgard) – arrives in the mysterious cave that grants him an odd vision. The Norse god explains that he will dip into the pool and allow The Norns – who bear similarity to The Fates from Greek mythology – to possess him. Prior to entering the pool, Thor humorously takes a swig from the flask he had at the earlier party scene, and declares that he is in fact afraid. Once possessed, Selvig asks questions about the Mind Stone to The Norns, who respond through Thor himself. They lay out the nature of the Infinity Stones, and their implications for the greater Marvel universe, providing the duo with the information they need to ultimately create The Vision, and defeat Ultron.
Reportedly, due to its confusing nature and lack of visual effects, this deleted scene did not test well with audiences at advanced screenings. As a result, the scene was replaced with the more visually complex – yet ultimately more confusing – literal vision of the Infinity Stones themselves. Frankly, the deleted scene provides considerably more context, and does a much better job of combining Age of Ultron's narrative with the greater plans for Marvel's phase three. It also makes it feel like Thor puts himself in much more danger, because there exists a chance that The Norns may not relinquish him at points during his possession. In the end the theatrical cut of the pool scene always felt like a non sequitur from the overall plot of the film.
This is not the first time a Marvel film has left a good scene on the cutting room floor in favor of a sub-par scene. The opening of Iron Man 2 originally featured a much darker look at Tony Stark's descent into alcoholism, but instead opted for a more upbeat opening, which showed him in an emotionally less desperate place.
There's no use crying over what could have been now. Avengers: Age of Ultron is still an enjoyable movie, even without some of its better scenes. If you haven't watched the clip above, do yourself a favor and check it out – it will definitely get you excited for what's in store during Marvel's Phase 3 films.
Your Daily Blend of Entertainment News
Originally from Connecticut, Conner grew up in San Diego and graduated from Chapman University in 2014. He now lives in Los Angeles working in and around the entertainment industry and can mostly be found binging horror movies and chugging coffee.