The Avengers: Age Of Ultron Ticket Presales Are Even Bigger Than Expected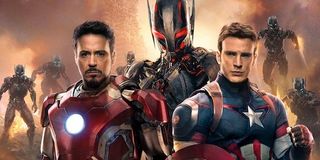 Anyone who has paid even a modicum of attention already knew that Marvel's Avengers: Age of Ultron is going to be a huge blockbuster. But as it turns out, it may be even bigger than anyone thought, as advanced ticket sales are freakishly massive. Like Hulk-sized.
Entertainment Weekly reports that, still a few days away from the domestic release, presale ticket numbers are already more than four times those of the first film back in 2012. Considering how successful that movie was, these numbers are staggering. They're also more than five times what Iron Man 3 did pre-release. According to the report, in the most recent 24-hour period, Age of Ultron accounted for 84% of all movie ticket sales.
This may be surprising, but to be honest, seeing this movie over perform isn't actually a total shock. While Age of Ultron doesn't open in the U.S. until later this week, starting with late shows on Thursday, it opened last weekend in 44 markets across the globe. In advance of the international opening, experts anticipated it could rake in anywhere from $160 million to $175 million. What it did was score north of $201 million, so it's already exceeding expectations. It was also the top movie in every location where it debuted, and it hasn't even dropped in big markets like China and Spain.
That train is going to keep right on rolling, and with domestic estimates all indicating we're in for at least a $200 million opening weekend, Age of Ultron is going to have a large sum of money in the bank in relatively short order. Reading numbers like this, you have to wonder how high the ceiling is for this movie?
The Avengers took in more than $1.5 billion dollars, making it the third highest grossing movie of all time. With these predictions, as well as the fact that Age of Ultron appears to be outperforming its predecessor exponentially, it's easy to imagine topping those box office receipts. At this pace, it even seem possible that $2 billion could be in reach, a feat that has only been accomplished twice, both times by James Cameron, with Avatar and Titanic. That sounds crazy, but it realistically could happen.
Furious 7 has had a stranglehold on the box office, both globally and in the U.S., since it was released, becoming the fastest movie to ever top the billion-dollar mark. It currently sits at $1.3 billion and climbing (with $1 billion of that from international territories, just in case you needed another reminder of how valuable those markets are to Hollywood blockbusters), but you have to assume it's going to take a hit with Ultron continuing to make its presence felt.
Critical reaction to Avengers: Age of Ultron has been more mixed than with the last film, but that doesn't appear to be dampening public enthusiasm for it one bit. Perhaps if audiences have a similar reaction, it could hinder the long game, and maybe it won't have quite the legs some expect (maybe people will only see it three times instead of four). That's all just speculation, and no matter how you cut it, this movie is going to make an absurd amount of money.
Your Daily Blend of Entertainment News
Thank you for signing up to CinemaBlend. You will receive a verification email shortly.
There was a problem. Please refresh the page and try again.