Avengers, Dark Knight Rises, Life Of Pi Among Best Visual Effects Oscar Shortlist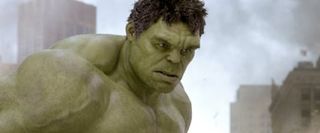 The Best Visual Effects category at the Oscars is often the best showcase for the year's most popular films-- Transformers: Dark of the Moon, Iron Man and Spider-Man 2 are just a handful of the movies that have been nominated there and almost nowhere else at the awards. So for those of you who complain that the Oscars never recognize films that are big and popular, enjoy today, as the 10 finalists for the Visual Effects category have been narrowed down.
As you might expect, two of the year's biggest films made the lineup-- The Hollywood Reporter writes that both The Avengers and The Dark Knight Rises (respectively #1 and #2 for the year so far) made the cut, along with The Amazing Spider-Man (#4 at the yearly box office), Skyfall (#8 and rising fast) and Snow White and the Huntsman (#13). You don't necessarily have to be a financial success to make it, of course-- the beautiful but unfairly overlooked Cloud Atlas is a finalist, along with poor old John Carter. The list is rounded out by Ridley Scott's Prometheus, Ang Lee's Life of Pi and Peter Jackson's The Hobbit: An Unexpected Journey-- though it's an open question whether the nominating committee saw a completed version of the film to nominate it.
The makeup branch of the Academy will vote from among those 10 to pick 5 finalists, and I have to assume that Life of Pi-- and its astonishingly lifelike tiger-- will make it in there. From there you never really know, as a film's popularity or quality is no guarantee that it will be nominated in this category. The visuals of John Carter were pretty striking, and how does a non-professional compare those against the massive fight scenes of The Avengers anyway? Feel free to pick your favorites in the comments, though, and find out how it all shakes out when the Oscar nominations are announced January 10.
Staff Writer at CinemaBlend
Your Daily Blend of Entertainment News
Thank you for signing up to CinemaBlend. You will receive a verification email shortly.
There was a problem. Please refresh the page and try again.