The Awesome Joker Tweets Mark Hamill Used To Announce His Killing Joke Casting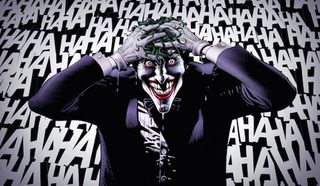 In less than two weeks, Batman will have his cinematic encounter with Superman in Batman v Superman: Dawn of Justice, but that won't be the Caped Crusader's only big moment on screen this year. It was confirmed several months ago that Batman: The Killing Joke would be made into an animated movie, and today it was officially revealed that Batman: The Animated Series alums Kevin Conroy and Mark Hamill will reprise Batman and The Joker, respectively, for the project. To mark the announcement, Hamill posted the first official image from the adaptation with one of the story's famous quotes on his own Twitter feed.
Hamill subsequently tweeted the same picture two more times to complete the movie title with more quotes from the original source material. KILLING was accompanied by the line, "Remember there's always madness... Madness is the emergency exit." Then JOKE followed with, "If I have to have a past, then I prefer it to be multiple choice." Following Mark Hamill's temporary retirement as the Clown Prince of Crime in 2011, he said that he would return to the role if a Killing Joke adaptation were ever made. Well, now it's a reality! Hamill didn't elaborate on his new Joker experience, but he's clearly excited to be back.
Like Kevin Conroy with Batman, Mark Hamill has continued to voice The Joker in multiple projects over the decades, from episodes of Superman: The Animated Series and Justice League to three of the Batman: Arkham video games. Both actors are also reprising their roles for the upcoming Justice League Action animated series. As for the rest of Batman: The Killing Joke's cast, Comic Book Resources reports that Tara Strong will voice Barbara Gordon and Ray Wise will voice her father, Commissioner James Gordon.
Written by Alan Moore (of Watchmen and V for Vendetta fame) and Brian Bolland, Batman: The Killing Joke was published in 1988 as a one-shot, and has since become one of the most famous Batman stories ever written. However, it's earned its share of controversy over the years, primarily for its brutal treatment of Barbara Gordon, who is paralyzed at The Joker's hands. This cut short her career as Batgirl, though she later served as Oracle from 1989 to when the New 52 began in 2011. Conversely, The Killing Joke is also considered by many as the definitive Joker story and one of the few to depict the super villain's origin, though the clown himself casts doubts on whether events happened the way they're depicted.
No release date has been set for Batman: The Killing Joke, but the movie will premiere later this year at San Diego Comic-Con, and the movie's wide release will follow later in the summer.
Connoisseur of Marvel, DC, Star Wars, John Wick, MonsterVerse and Doctor Who lore. He's aware he looks like Harry Potter and Clark Kent.
Your Daily Blend of Entertainment News
Thank you for signing up to CinemaBlend. You will receive a verification email shortly.
There was a problem. Please refresh the page and try again.