The Bat Signal Is Up! But Where Is Batman?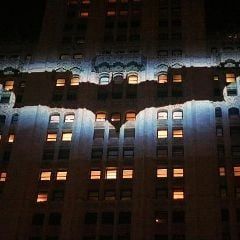 Guys, I don't know what else to tell you. Someone is in great danger in downtown Gotham, and clearly Batman in the only one who can come to the rescue. How else to explain the giant Bat Signal, spotted by the city's prominent blog Gothamist, shining on the downtown landmark Woolworth Building. Will it go up again tonight? Is Batman really not answering the call?
Wait, what's that you say? This is all some marketing stunt? Oh yeah, that Dark Knight thing. I thought I'd heard something about that. Well, now that I know someone isn't in real-life danger at the Woolworth Building, Batman will be available to help me as I walk home from work in a picturesque rainstorm, possibly through some darkened alley, ignoring the sound of evil laughter and some suspicious movement behind the dumpster.
In all seriousness, if you live in New York and spy this, send it along! I'll do my best to get down there and see it myself, since there's nothing I love more than pretending I'm in a movie for one brief, if ridiculous, moment.
Your Daily Blend of Entertainment News
Staff Writer at CinemaBlend