Batman v Superman's MPAA Rating Raises An Unexpected Question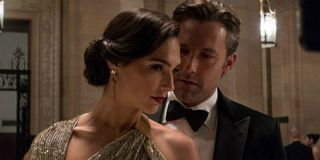 Zack Snyder's upcoming superhero face-off, Batman v Superman: Dawn of Justice, received its rating from the MPAA. It will be PG-13. Hopefully, that's not a shock to you. Even with the "dark and gritty" direction of the DC cinematic universe, Warner Bros. still has to appeal to the widest audience possible, which puts R out of the question. Still, there was one interesting aspect to the MPAA's rating that likely hints at what's coming story wise.
Batman v Superman was rated PG-13, according to Indiewire, due to "intense sequences of violence and action throughout, and some sensuality." The first part is no surprise; the title alone implies that there will be some superhero fist-pounding going on. The second part, however, seems to point to Wonder Woman's role.
Gal Gadot portrays the Amazonian warrior in the film, and this distinction could very well point to the mere fact that Gadot bares her naked shoulders in her heroic costume and in some gala shots we've seen from film stills. The MPAA is pretty conservative when it comes to ratings. That said, it could also point to some romantic entanglements, perhaps with Bruce Wayne/Batman.
We've seen Ben Affleck's Dark Knight cozying up with Diana Prince in preview images, while the two shared a lengthy look from across the space in the trailers. We already know from interviews with the cast and crew that Diana and Bruce know of each other's superhero side gigs, but might this mean there could be something more to their relationship?
It's not unheard of in the DC space. The Justice League animated series saw a relationship form between Wonder Woman and Bats. It played out in episodes like "This Little Piggy," in which Batman had to save Diana after the enchantress Circe transformed her into a pig, and the multi-episode arc that depicted the Thanagarian invasion. Sparks flew as the two shared a make-out session disguised as civilians in order to hide from their pursuers.
Man of Steel depicted the love between Superman (Henry Cavill) and Lois Lane (Amy Adams), and the film ended up with a PG-13 rating for "intense sequences of sci-fi violence, action and destruction, and for some language." But this shoutout from the MPAA on Batman v Superman seems telling.
The film will hit theaters on March 25, 2016, and feature Jesse Eisenberg as Lex Luthor, Jeremy Irons as Alfred, Laurence Fishburne as Perry White, Diane Lane as Martha Kent, Michael Shannon as General Zod, and Tao Okamoto as Mercy Graves. Jason Momoa as Aquaman, Ezra Miller as The Flash, and Ray Fisher as Cyborg will also appear, and there are a number of still unknown roles from the likes of Jena Malone, Callan Mulvey, and Jeffrey Dean Morgan.
Your Daily Blend of Entertainment News