Battlestar Galactica Movie Will Reimagine The Story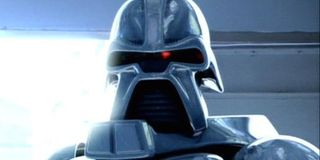 In Hollywood years, five years is probably considered plenty of time to let a successful franchise -- or in this case, TV series -- rest before rebooting it. And believe it or not, it's been five years since Battlestar Galactica went off the air. (It's been more than a decade since the reboot miniseries premiered). So, while there are surely arguments to be made for or against another reboot of the original Battlestar Galactica concept, it's not entirely surprising that we're hearing updates on such a project, which is in the works at Universal and is said to be a "complete reimagining of the story." In other words, presumably not a continuation of Ronald D. Moore's reboot of the original series.
Variety posted word today that Universal is aiming to bring Battlestar Galactica to the big screen, with original series creator Glen Larson set to produce. Transcendence writer Jack Paglen has already signed on to pen the screenplay. At present, Transcendence is Paglen's only listed writing credit, but the film hits theaters April 18, so we'll get a pretty notable sample of his work soon enough. And Variety also notes that he's committed to writing the script for Ridley Scott's Prometheus sequel at Fox, which should add some more sci-fi cred to his resume.
As for the Battlestar Galactica movie, it's intriguing to note the part about this being a complete reimagining of the story. The original TV series aired in 1978 and took place near the end of a war between mankind -- people of Twelve Colony planets that existed far from Earth -- and a race of Cylon robots created by some reptilian race that no longer exists by the point that the machines are attacking the colonies. A sneak attack by the Cylons forces humanity to abandon their home planets aboard a fleet of spaceships, among which is the last surviving warship "battlestar," named Galactica. A sequel series called Galactica aired in 1980.
Ronald D. Moore rebooted the concept in 2003 with a miniseries that led into a full series at Syfy (then SciFi). There were modifications to the original concept, however, the biggest involving the incorporation of humanoid Cylons, which literally gave the enemy a face (that wasn't made of metal). Much of Battlestar Galactica's drama centered on humanity's efforts to survive and deal with their conditions while being pursued by a race of machines that were trying to wipe them out. And they were searching for Earth, where they believed they could start anew. The Cylons had their own "Plan," which factored into the drama.
The fact that Ron Moore's Battlestar was so successful -- a rare feat for space-set dramas on modern television, it's worth noting -- gives me hope that part of that success hinged on how adaptable the original concept was and should still be years later. The combination of sci-fi thrills, politics and emotional human (or Cylon) drama made for a truly compelling series, even for those who aren't typically drawn in by sci-fi. If a movie can find its footing as well as Moore's series did, I'd like to believe it could be a great movie. At the very least, I'll remain cautiously optimistic about this project, and interested in seeing what decisions are made about the story, the characters and of course, the design for the Cylons, Centurions, Raiders and of course, Galactica, because she's a pretty crucial part of the story. So say we all.
This poll is no longer available.
Your Daily Blend of Entertainment News
Assistant Managing Editor
Kelly joined CinemaBlend as a freelance TV news writer in 2006 and went on to serve as the site's TV Editor before moving over to other roles on the site. At present, she's an Assistant Managing Editor who spends much of her time brainstorming and editing feature content on the site.