Ben Affleck Confirms Dennis Lehane's Live By Night As His Next Film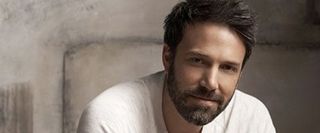 Though Ben Affleck broke through as an actor and screenwriter with Good Will Hunting, it was easy to forget the latter since for years he focused solely on his career in front of the camera. But then he turned director with the riveting crime-drama Gone Baby Gone, and audiences and critics alike were freshly awed by his many talents. Affleck not only helmed the picture that went on to score an Academy Award nomination for Amy Ryan, but also co-adapted the screenplay from one of Dennis Lehane's crime novels. Lehane's works have led to two other acclaimed adaptations, Martin Scorsese's critically praised Shutter Island, and Clint Eastwood's Oscar-winning Mystic River. Could Affleck be pinning his Oscar hopes on a second tangle with the Boston author?
At the National Board of Review Awards Gala in New York City, MTV caught up with the chipper triple threat. After commenting on the madness of award season mania, Affleck confirmed that he is making his adaptation of Lehane's Live by Night next. In fact, it's why he had to bail on Focus. He explains:
He went on to express regret that he won't be able to work with the cast and crew, offering a special shout-out to Focus's leading lady Kristen Stewart. But let's parse the piece here that is most intriguing, like how Affleck is careful to not hint when he hopes Live By Night will open. This is a smart move because a release date that moves often scores a movie negative press. Still, what deadline could be so crucial? Could it be that Affleck thinks the drama about a mobster son of a cop's rise through the ranks of underground crime in Prohibition-era Boston could be an Oscar contender?
The quote above was uttered Tuesday night, before Affleck knew what Oscar nominations his latest celebrated effort, Argo, would score. But could all the concern over dates mean Affleck is looking to hit the sweet spot of fall, where Live by Night could build the most powerful buzz for award season? All three of Affleck's directorial efforts so far have earned Oscar nominations, and each has opened later in the year, ranging from mid-September to mid-October. So it makes sense he'd eye a similar release for his next venture. Of course, it's too soon to be certain, but as we here at Cinema Blend are baffled by his omission from the Oscar directing category this year, you can't blame us for looking ahead to Affleck's next chance to be recognized.
Your Daily Blend of Entertainment News
Staff writer at CinemaBlend.