Sex Tape, Beware The Night And Kitchen Sink Shift Release Dates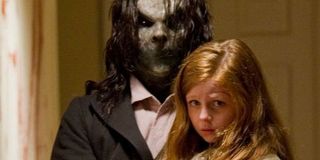 What do Sex Tape, Beware The Night and Kitchen Sink have in common? Well, they are all movies from Sony that Box Office Mojo reports have shifted their release date. Beyond that they have virtually nothing in common. Sorry, that wasn't a fun game at all.
Coming first will be Beware the Night, writer-director Scott Derrickson's follow-up to the 2012 horror hit Sinister. Eric Bana will front the film as a New York City cop whose lost his faith and finds himself facing off with a man possessed by the devil. Olivia Munn and Joel McHale will co-star as Bana's worried wife and tough partner, respectively. Described as a crime drama with doses of action and horror tropes, Beware the Night is now in production. Previously slated for release on January 16th, 2015, it's been pushed forward to July 2nd, 2014.
In its old spot, the film would have opened against limited releases like the crime thriller Big Bad Wolves and the romance Gloria, as well as bigger budget offerings like Jack Ryan: Shadow Recruit and the Radio Silence horror thriller Devil's Due. Instead, Beware the Night will now contend with a very different kind of movie in July, the Melissa McCarthy comedy Tammy. With the rousing successes of The Purge and The Conjuring, summer has proved a profitable position for horror, so this bump bodes well for Beware the Night.
Next up will be Sex Tape from Bad Teacher helmer Jake Kasdan. Jason Segel and Cameron Diaz star as a married couple forced to go on a frantic search when they discover the sex tape they made the night before has gone missing. Also signed on to this late night comedy are Rob Lowe, Ellie Kemper, Rob Corddry, and Jack Black. Originally set to open on July 18th, 2014, Sex Tape has been bumped back to August 1st, 2014. This means instead of going up against the sci-fi Dawn of the Planet of the Apes and the Disney spinoff sequel Planes: Fire and Rescue, this bawdy comedy will battle the Marvel tentpole Guardians of the Galaxy and the James Brown biopic Get On Up.
Lastly, Kitchen Sink comes from 22 Jump Street scribe Oren Uziel's 2010 Black List script, and features a hodgepodge of genre influences per the cliché as in "everything but the kitchen sink." It centers on three kids who live in an unusual town called Dilford, where vampires, humans, and zombie co-exist, though far from happily. However, these feuding neighbors are forced to put aside their differences when an alien invasion threatens their homes. This will be director Robbie Pickering's follow-up to his critically praised but unnerving debut Natural Selection. Its star Rachel Harris is on board for Kitchen Sink, along with Keegan Michael Key, Denis Leary, Patton Oswalt, Bob Odenkirk, Ian Roberts, Joan Cusack, and Vanessa Hudgens.
Originally slated to open on October 24th, 2014, Kitchen Sink has been bumped to January 9th, 2015. In its former date, it would have faced off against Paranormal Activity 5 and the recently resuscitated Vince Vaughn comedy The Business Trip, which reteams him with Delivery Man director Ken Scott. Perhaps fearing Vaughn's star power, Kitchen Sink leapt back a few months, and is currently uncontested on its new spot.
Your Daily Blend of Entertainment News
Staff writer at CinemaBlend.