Ben And Kate's Dakota Johnson Feels The Need For Speed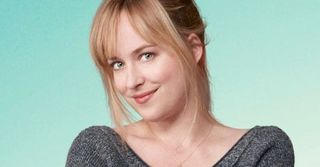 The stars of Fox sitcom Ben and Kate got some bad news last month when production on the sibling-centered series shut down and the show was cancelled. But don't cry for Dakota Johnson. The Kate of Ben and Kate is already moving on, having snagged a supporting role in DreamWorks Need For Speed.
Based on the popular EA racing video game series, Need For Speed focuses on speed freak Tobey Marshall, who is a fan of '70s-style, fast-paced cars. When his best friend is killed, Marshall kicks into gear on revenge, racing at insane speeds from New York City to Los Angeles to get it. Breaking Bad's Aaron Paul is fronting the film as Marshall, and Deadline reports Johnson has signed on to join the cast that also includes Michael Keaton, Dominic Cooper (Abraham Lincoln: Vampire Hunter), Imogen Poots (Fright Night), Scott "Kid Cudi" Mescudi, Ramon Rodriguez (Battle Los Angeles), Rami Malek (Night at the Museum), and Harrison Gilbertson (Virginia).
At this time, no details on Johnson's role in the film are being released. However, we do know that Cooper will play an ex-NASCAR driver called Dino. Poots has landed the female lead, an exotic car dealer; and Keaton will play the master of ceremonies for an underground supercar race, where the best racers from around the world compete.
The script is penned by first-time scribe George Gatins and his brother, actor-screenwriter John Gatins (Real Steal, Flight) seems a bit of a wild card. But helmed by Scott Waugh, a long-time stuntman who made his directorial debut with the 2012 Navy SEALs thriller Actor of Valor, we assume Need For Speed will be stuffed with kind of high-octane action fans of the game have come to expect.
Need For Speed is expected to roll into theaters on February 7th, 2014.
Staff writer at CinemaBlend.