Ben Stiller Confirms His Zoolander 2 Leading Lady With A Funny Photo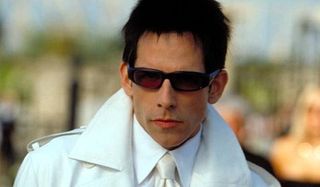 After Zoolander 2 made its presence known last month with a hilarious coming out party that saw Ben Stiller and Owen Wilson walk the runway at Paris Fashion Week as Derek Zoolander and Hansel, the upcoming sequel has announced the addition of another actress. Confirming rumors that stretched back several months, Ben Stiller has let it be officially known that Penélope Cruz has hopped on board the raucous romp of a second entry with an endearingly embarrassing portrait.
The announcement confirming the addition of Penélope Cruz to Zoolander 2 will see the actress as a new addition to an array of returning cast members. At this point, no details have been revealed regarding the role Cruz will play in the film, but considering the long length of time her name has been surrounding the project, she's clearly a consequential part of the film. She joins newcomers like Kristen Wiig, who plays a yet-be-named character with a proclivity for trigonometrically trussed hairdos and young Cyrus Arnold, who will play the titular protagonist's son, Derek Jr.
Overall, this role will see Penélope Cruz joining a project that's anything but a center for ants. Stepping back into things both behind the camera as director and in front as the star, Ben Stiller has managed to get the band back together for this long-in-the-making sequel to 2001's model-lampooning laugh-fest, Zoolander. The qualitatively quotable comedic romp brilliantly, albeit hyperbolically satirically sasses the culture of the fashion industry, while never alienating the audience. Owen Wilson is back as Derek's equally vacuous former rival-turned-friend, Hansel, Stiller's real life wife, Christine Taylor returns as Derek's romantic interest Matilda Jeffries and even Will Ferrell's lactose-intolerant malicious mogul, Jacobim Mugatu will return.
The 2001 original Zoolander has become a comedy classic that defied a set of unlikely odds. While the film was released during a period that saw Ben Stiller's cinematic career surge with his 2000 hit, Meet the Parents, he's always been known as an inconsistent commodity. In a recurring pattern, for every There's Something About Mary there would be a Mystery Men. Thus, Zoolander came on to the scene inauspiciously, marketed as a bizarre one-man mess that seemed to make very little sense at first glance. Additionally, it hit theaters on September 28, 2001; just over two weeks after the 9/11 attacks, which was an abysmal time to be any movie, much less a "dumb comedy." However, it put up a respectable fight at the box-office at $60 million, and would become an instant cult classic upon its video/DVD release.
It will be interesting to see if 14 years of incessant quoting and fan reverence can manage to drum-up an audience for Zoolander 2. It should nevertheless be an opportunity for the lovely Penélope Cruz to potentially let her freak flag fly with complete impunity. The film is set to hit theaters on February 12, 2016.
Your Daily Blend of Entertainment News
Thank you for signing up to CinemaBlend. You will receive a verification email shortly.
There was a problem. Please refresh the page and try again.