Derek Zoolander's Son Might Have The Worst Haircut I've Ever Seen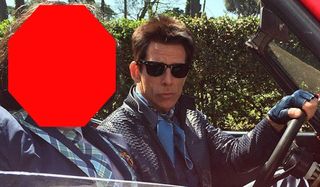 Ben Stiller has unveiled the first picture of Derek Zoolander's son, and as you may have guessed given that he's the spawn of a man who partook in gas-fights, he looks just a bit weird. Intrigued? Thought so. Well, you can have a gander at the image below.
Ben Stiller delightfully captioned the image with the simple, "Son of Derek," at the same time as he introduced his legion of Instagram followers to Cyrus Arnold, the latest addition to the Zoolander 2 ensemble. Cyrus Arnold has previously only made a handful of appearances in titles like About A Boy, Richie Rich, and Comedy Bang! Bang, so Zoolander 2 will be by far his biggest project to date.
In the picture, Ben Stiller took the opportunity to once again showcase the iconic blue steel pose that he perfected as Derek Zoolander in the original 2001 comedy. Meanwhile, Zoolander Jr. not only appears to be wearing fabulously garish attire, but he is also rocking a horrid bowl-cut that surely his on-screen dad disapproves of.
After Ben Stiller outed that Cyrus Arnold will be starring in Zoolander 2 as his son, the young actor also decided to celebrate his casting in the comedy with his own Instagram post – though his was a touch more enthusiastic. He wrote,
Of course, Derek Snr. isn't the only parental figure in the picture, as Christine Taylor's Matlida Jefferies will very much be in the picture in Zoolander 2, with the end of the first Zoolander being our last time seeing the three characters together. Of course, at that time Derek Jr. was also revealed to possibly be a natural model with his own unique look. From the looks of this first look photo, though, it doesn't appear that he was too into following in his dad's fashionable footsteps
There is another possibility, however. What if Derek Zoolander isn't actually Derek Jr.'s father? Don't get me wrong, the pair do have a similar look, but let's not forget there was one scene from Zoolander that suggests Owen Wilson's Hansel McDonald could be the teen's biological pops. You can remind yourself of the bizarre orgy that might have led to kid's conception below.
We're still waiting for concrete details regarding Zoolander 2. At the moment all that we're certain of is that Stiller and Wilson will be joined by Penelope Cruz and Will Ferrell in the follow-up, while numerous cameos from the world of modelling are expected as well. The movie will be released on February 12, 2016.
Your Daily Blend of Entertainment News
Your Daily Blend of Entertainment News
Thank you for signing up to CinemaBlend. You will receive a verification email shortly.
There was a problem. Please refresh the page and try again.