Benedict Cumberbatch Could Play Heroic Code-Cracking Mathematician Alan Turing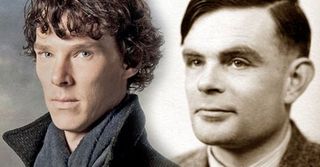 Only three short years ago, Benedict Cumberbatch was a little-known British actor who had no reputation to speak of Stateside. But then came the mini-series sensation that is BBC's Sherlock. Roles in high prestige movies like Tinker Tailor Soldier Spy and War Horse followed, as well as villainous turns in such highly anticipated action-adventures as the Hobbit trilogy and Star Trek Into Darkness. This year he has a slate of five films poised to hit theaters, including the Julian Assange biopic The Fifth Estate. Basically, Cumberbatch is everywhere.
Earlier this month we shared a look at Cumberbatch as Assange in the film's sneak peek, and already it has been reported the Sherlock star is in talks for the lead in another buzzed about biopic. Deadline reveals Cumberbatch has entered into negotiations to play English mathematician Alan Turing in The Imitation Game.
The project first earned buzz back in 2011, when it scored scribe Graham Moore a coveted spot on the Black List, a collection of unproduced screenplays Hollywood producers agree are exemplary. Since then the script bounced from Warner Bros to Black Bear Productions, and director J. Blakeson was replaced by Morten Tyldum, who won acclaim with Norwegian crime thriller Headhunters. In all the shuffling, The Imitation Game also lost Leonardo DiCaprio, who was once rumored for its lead. But don't cry for DiCaprio; he is set to star in another Moore and Warner Bros. collaboration based on the bizarre life of America's first known serial killer Dr. H.H. Holmes. (Warning: don't Google Holmes unless you have a strong stomach.)
While turnarounds like this often earn a movie bad buzz, The Imitation Game would definitely be back in good standing if it can snare Cumberbatch. Lately everything he's even rumored to be apart of gains notice.
But why all this fuss over a mathematician? Well, not only is Turing credited with cracking Germany's confounding Enigma Code system in World War II, he also was persecuted and prosecuted for being a homosexual in 1950s England. Apparently his massive contribution to the war effort wasn't enough to keep his government from declaring him criminally "indecent." Spoiler alert: Turing's conviction resulted in him being essentially chemically castrated. He was also kicked out of working in government intelligence. To be clear: the guy who broke the code the Nazis used was booted from code breaking because he was gay.
The way Turing was treated was horrible, and regrettably his story only gets more tragic from there. But between its fascinating subject matter, praised screenplay and up-and-coming helmer, The Imitation Game already has a great deal going for it. Now, all it needs it a leading man who can perform this role with compassion and depth. Cumberbatch is a great pick. Here's hoping he signs on soon.
Your Daily Blend of Entertainment News
Staff writer at CinemaBlend.