Bette Midler Will Perform At The Oscars This Year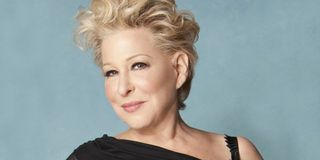 Thanks to stunning turns in For the Boys and The Rose, Bette Midler is a two-time Oscar nominee. But this year, she's taking to the stage to bring her belting bravado out in honor of the 86th Annual Academy Awards.
Coming Soon reports Craig Zadan and Neil Meron, producers of the live broadcast, extended an invitation to Midler on behalf of The Academy of Motion Picture Arts and Sciences to perform. In a statement, the pair of producers shared their enthusiasm over the announcement, saying:
Frankly, Zadan and Meron have a lot of making up to do, considering their showstopper last year was the crass and sexist "We Saw Your Boobs." But the two have a long history with Midler, as both served as executive producers of her 1993 made-for-TV movie adaptation of the Arthur Laurent's musical Gypsy. Check out Midler's big moment from that production below:
Will this be what she performs on Oscar night? For now mum's the word on whether Momma Rose will resurface. But the Oscars are a great venue for a big flashy musical number. Remember in 2009 when Beyonce and Hugh Jackman led a salute to musicals at large?
My guess is that Midler will bring the house down with what might be her most beloved song, "Wind Beneath My Wings." And where would be best to break out that heartbreaking ballad? The memorial segment for those in the spotlight we lost this year, of course! If my guess is right, there won't be a dry eye in the house, or in homes across the nation watching the Oscars.
Also performing on Oscar night are the singers of this year's Best Song nominees. Pharell will perform "Happy" from Despicable Me 2. U2 is on board to rock out to "Ordinary Love" from Mandela: A Long Walk To Freedom. Karen O will sing Her's "The Moon Song." And of course, Idina Menzel will unleash Frozen's "Let It Go."
The Academy Awards will be presented live on March 2nd. Ellen DeGeneres hosts, and last year's winners Jennifer Lawrence, Daniel Day-Lewis and Anne Hathaway have been confirmed as presenters.
Staff writer at CinemaBlend.
Your Daily Blend of Entertainment News
Thank you for signing up to CinemaBlend. You will receive a verification email shortly.
There was a problem. Please refresh the page and try again.