Idina Menzel Will Perform Frozen's 'Let It Go' At The Oscars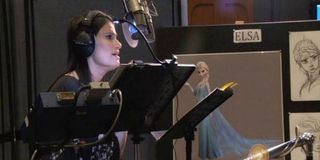 It's about damn time! Since we first heard Broadway superstar Idina Menzel unleash "Let It Go" in Disney's smash-hit Frozen, we've essentially been waiting for word she'd preform it live on Oscar night. I mean, how could that not happen? And yet, we've been made to wait like animals for the official announcement. At last it has come!
Craig Zadan and Neil Meron, the producers behind this year's Oscars broadcast, have signed up Menzel to sing Frozen's "Let It Go" on TV for the live event. She will not lip synch. She will let it go with the full force of her widely celebrated voice.
Frozen is up for two Academy Awards on Oscar night, Best Animated Feature, and Best Original Song. In the former category, Disney's latest princess tale faces off against The Croods, Despicable Me 2, The Wind Rises and Ernest & Celestine. In the latter, "Let It Go" competes against Pharell Williams' "Happy" from Despicable Me 2, Karen O and Spike Jonze's "The Moon Song" from Her, and U2's "Ordinary Love" from Mandela: Long Walk To Freedom. (Note: The former nominated song from Alone Yet Not Alone was disqualified after an unusual investigation.) Frozen is considered to be the frontrunner in both races, but come on, you knew that.
Frozen has been a big, fat hit for Disney. It re-interpreted the princess for a contemporary audience, promoting sisterhood and self-acceptance over love at first sight. Audiences and critics alike have overwhelmingly embraced the film. Frozen earned spots on Top 10 lists, and is on track to become Disney's highest domestic grossing animated release, possibly beating out The Lion King. Plus, the movie's soundtrack has become a runaway hit that has not only topped the Billboard charts, but also inspired a groundbreaking Sing-A-Long re-release. (Read my GIF review of this extraordinary cinematic event here.)
Basically, people cannot get enough of Frozen, so we've all been waiting anxiously for Menzel to promise she'd hit the stage on Oscar night. (I mean, Pharrell didn't keep us waiting.) I'm telling you right now: Menzel's number will be one of Oscar's biggest moments. Expect close-ups of teary-eyed celebs and a supremely satisfied smile on her face and that of "Let It Go" writers Kristen Anderson-Lopez and Robert Lopez. No matter who wins Best Picture, the night will belong to these three.
The 86th Annual Academy Awards will be broadcast live on March 2. Ellen DeGeneres will host. For more on Frozen check the highlights from their AMA.
Your Daily Blend of Entertainment News
Staff writer at CinemaBlend.