Beyonce And Winehouse Battle To Sing Bond's Themesong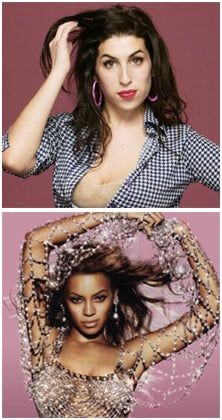 The confusion over who will sing the next Bond theme song continues. A few weeks ago the word was that Amy Winehouse would be doing it, but shortly after that story broke, her producer told Entertainment Weekly that she was a mess and she'd never be able to do it. Actually, what he said was that it would take "some miracle of science" for her to be able to do it. That seems pretty definitive, doesn't it?
In fact The Daily Express says the producers of the next Bond movie, Quantum of Solace are now looking at Beyonce Knowles to sing the movie's theme. They say Winehouse's producer already had some songs ready to go, but got so sick of Amy's insanity that he shelved it and now they're looking at a list of replacement candidates, among which Beyonce is supposed to be the favorite.
Except not so fast. Amy Winehouse still wants in. The Daily Star says she told them she's recorded tons of tracks for the new Bond movie, and she's happy with them. She wants them used, and seems to indicate that it's up in the air whether Bond's bosses will actually use them.
Normally the singing of a movie's themesong isn't such a big deal, but Bond movies have a long history of starpower behind their themes. Everyone from Paul McCartney to Madonna has participated in the crooning of James Bond's theme, and like it or not, it's become kind of a big deal not just in the movie industry, but in the music industry. To me Amy Winehouse seems perfect… assuming she's sober enough to actually do it. Beyonce seems like a strange choice, when you consider her history with Bond's parody alter-ego Austin Powers. She co-starred and sang in the third Powers movie. Having her involved in an actual Bond movie just seems wrong.
Your Daily Blend of Entertainment News