Bill Hader And LeBron James Had The Most Awkward Conversations While Shooting Trainwreck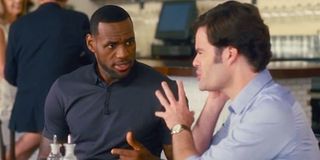 In Judd Apatow and Amy Schumer's upcoming flick Trainwreck, an unlikely duo is paired as Downton Abbey-recapping best buds. The two, in real life, live in completely opposite worlds— one a quirky comedian, the other, an NBA all-star. And though their friendship onscreen is undoubtedly adorable, during filming, things got a little awkward for Bill Hader and LeBron James, as the two didn't exactly have a ton in common.
While sitting down with Bill Hader to discuss his starring role and time filming Trainwreck, his supporting actor, LeBron James (a.k.a. the NBA's top athlete) inevitably came up. The two had a strange yet close relationship onscreen as James was dedicated, to say the least, to Bill Hader's life, and looking out for his BFF. And though Hader plays a believable sports doctor in the film, the actor himself has very little interest in athletics. So despite the two's connection on screen, the conversation offscreen sometimes got a little bit awkward. Hader explained:
It's hilarious to imagine Bill Hader trying to chat with the 6'8" athlete about the 1970 Ken Loach drama, named one of the 10 best British films of the century by the British Film institute. Not to say LeBron James doesn't enjoy film, we're sure he's a fan, but the man doesn't seem like he has the time to obsess over the latest Criterion Collection release on blu-ray while he's training for yet another NBA championship ring.
While the two may have had a few awkward conversations on set, their chemistry definitely translated on screen. Hader explained that James had only been on set for one week to shoot all of his scenes, but the two had worked previously on SNL so they already were fairly comfortable with one another. And Hader was also impressed by how the athlete's comedy chops as well:
As for whether or not Hader will be taking advantage of this newfound friendship, and scoring some of the similar perks his character claims on Trainwreck, the SNL alum answered with a hard "No." Even after playing a dedicated sports doctor, sounds like the comedian is still not a fan of that whole sports thing. He'll gladly be sticking to his British classics.
You can see Bill Hader and LeBron James' hysterical relationship in action during Trainwreck, out in theaters as we speak.
Your Daily Blend of Entertainment News
Your Daily Blend of Entertainment News
Thank you for signing up to CinemaBlend. You will receive a verification email shortly.
There was a problem. Please refresh the page and try again.