Bill Murray's Groundhog Day Headed To The Stage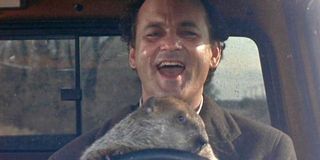 Despite being dedicatedly silly, the Bill Murray comedy Groundhog Day has become a pretty seminal work. The story of a cynical man who is forced to live out a time loop until he gets it right has appeared to inspire imitators like Edge of Tomorrow and Life After Life, while one of its quotable one-liners inspired the title of the Nicolas Cage vehicle Drive Angry. But following in the footsteps of movies like Newsies and The Producers, Groundhog Day is being transformed into a stage musical.
Tim Minchin, the composer and lyricist of the Tony Award-winning Broadway hit Matilda: The Musical, teased the news on Twitter (via THR):
The link he lists above takes followers to his personal blog, where he offers a lengthy explanation of the project. Minchin will write the music and lyrics of the Groundhog Day musical, while Danny Rubin, who co-wrote the movie with Harold Ramis, will pen the stage show's book. Attached to direct is Matthew Warchus, who helmed Matilda: The Musical.
In case you're unfamiliar, here's a medley from Matilda: The Musical that was performed at the 2013 Tony Awards:
As to the Punxsutawney-set Groundhog Day, Minchin says:
He goes on to mention that yes, Stephen Sondheim was batting around the idea of a Groundhog Day musical years ago, but that Sondheim has given this version his blessing. Workshopping on the production could begin as early as this summer, meaning the show could hit stages within a few years. "You won't hear any more about it from us until we know where and when we're going to put it on," Minchin warns before admitting that some lucky fans who saw him play at Koko in Camden a couple of weeks back actually heard two of the musical's in-the-works ballads.
Here's hoping some clever concertgoer thought to record them.
This poll is no longer available.
Your Daily Blend of Entertainment News
Staff writer at CinemaBlend.