Billy Bob Thornton Returns To Directing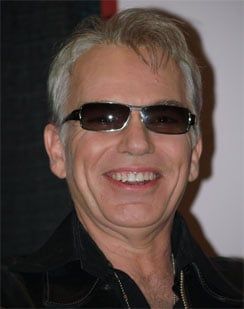 People seem to have forgotten it, but Billy Bob Thornton made his name as a writer and a director… not as Angelina Jolie's boyfriend. Maybe you remember a little movie called Sling Blade? Unfortunately, it's been nearly nine years since Billy Bob directed anything, and this afternoon at Austin's SXSW film festival he announced that drought is about to end.
In 2000 Billy Bob followed up Sling Blade by directing All the Pretty Horses, and, according to what he told us today it's his terrible experience on that film under the thumb of Harvey Weinstein which scared him away from directing anything else. Now though he has a plan to get back in the director's chair, and he's taking steps to make sure that he'll have all the control.
Billy says, "I'm gonna direct two movies, I haven't directed in nine years. I haven't because I was still under contract to do another movie for these folks and I want to do that. Once that is contract is finally resolved, I was afraid to do it. I still am afraid to do it, but I have two movies that I want to direct and I'm going to do it." He's not wasting any time either. In fact, he reveals "One of them I'm gonna try to do this fall. It's based on a book, and the other one is a, uh, true story of, about Floyd Collins. Story that needs to be told. The guy who was trapped in a cave back in the twenties that became this big media spectacle."
It's that second one that Billy Bob seems most passionate about, and he offers specific detail on what it's about. Billy says, "It's not about the media. They made a movie based on it years ago called Ace in the Hole, with Kirk Douglas. Their spin on it, Billy Wilder's spin on it was that Kirk Douglas is a reporter who didn't want the guy to get out, because then the story's over. In fact the real story is that the reporter, kid who worked at the Louisville, Kentucky newspaper was one of the only ones who really tried to get him out. You know, it was all these different groups. You know when people want to take credit for something, like if there's a disaster in a town and the mayor's there, and you've got the CIA there and the FBI and the fire department and the National Guard. Each person brags on their guys."
For Billy Bob Thornton, the story of Floyd Collins is a way into commenting on the flaws of our reality television, stardom obsessed society. He says, "Everybody wants to claim credit for cleaning it all up. And so, that's what happened in this story. But the reason I want to make the movie is I want to make the movie about human nature. It's human nature to want to see other people suffer for entertainment. That's why we have reality television. That's why every time there's somebody trapped in a hole, everybody's interested. The media wouldn't do that, the media's a business, they do what sells. So if all of the sudden horrible stuff quit selling and stories about, you know, puppies and things like that were what people are interested in that's all you'd see on the news. So, we can't just blame the media all the time."
Hearing him talk about it has me pretty excited. In fact, he went on for nearly an hour on the subject, waxing poetic about his views on the ways Hollywood has ruined movies and the way he thinks our culture is just totally fucked up. Billy Bob thinks we have it all wrong, and he's working on a movie to help show us how and why. Perhaps most importantly, he's adamant that he won't make either movie unless he has total control on both projects. He says he already has it locked up on the first one, and from what he said about the second one, it sounds like he's close to the kind of deal he wants on that as well. He's been burned before by Hollywood, and he's not letting it happen again with these two upcoming films.
Look for our full report from Billy Bob Thornton's hour long panel discussion later this week in our complete South By Southwest coverage, with more stunning stuff from Billy Bob and even more details on these two upcoming Billy Bob Thornton movies.
Your Daily Blend of Entertainment News