Black Dynamite Sequel a Real Possibility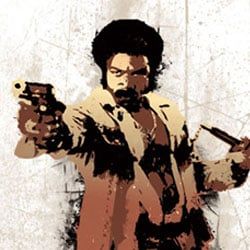 Black Dynamite Panther Fist! If your first helping of Michael Jai White and Scott Sander's Black Dynamite wasn't enough for you, you're in luck. White announced his intentions to move forward with a sequel while promoting the film for its UK run.
According to The Mirror White recently said "I've had the idea for Black Dynamite 2 for quite a while now, and it's gonna start where Black Dynamite left off - there's lots of things we didn't get a chance to do in the first one." He followed that exciting news up with a very promising sentiment, "You know how Black Dynamite just grows in ridiculousness? Well, this will be a fitting sequel."
As awesome as this news is, there's still no word on whether Black Dynamite's original financiers will pony up the bill for a bigger, badder sequel, or if White and crew will need to look to larger studios for money. If White and Sander really want to up the ante, it's probably going to require them to up the cost, and that's no small matter for an indie production. So if you want to see a sequel to one of the funnest films of 2009 made anytime soon, you'd be best shake the scene you turkeys and go buy a few Black Dynamite DVDs!
Your Daily Blend of Entertainment News
Thank you for signing up to CinemaBlend. You will receive a verification email shortly.
There was a problem. Please refresh the page and try again.