Blackhat Is A Full-On Bomb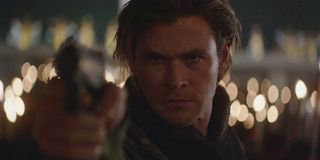 We were hoping that Blackhat would be the exception to the January rule that says the month is a dumping ground for Hollywood's…how should we put it…crap shoots. As it turns out, not even Thor himself could save it from destruction. The weekend box-office results are in, and it looks like we have our first major bomb of 2015.
Blackhat already seemed like this year's version of Jack Ryan: Shadow Recruit, but we were hoping because it was Michael Mann and Chris Hemsworth everyone would at least want to check it out. Unfortunately, the film only earned an estimated $4.03 million. To put that in perspective for you, the film cost more than roughly $70 million to make!
The problem seemed to be its main competition: American Sniper. Following all of its surprise Oscar nominations — it earned a total of six, including ones for Best Picture and Best Actor — the Clint Eastwood film starring Bradley Cooper broke a number of box-office records during its wide release. Not only was it the director's biggest debut for a movie, with $90.2 million in sales, but it's also the largest January opening weekend of all time.
While cyberterrorism is a timely topic, given the Sony email hacking scandal that rocked the industry and various celebrity photo hacks prior, audiences gravitated more towards the patriotic film. Cooper beefed up with 40 extra pounds of muscle to portray Chris Kyle, dubbed the deadliest sniper in American history with the most recorded number of kills. His story, based on Kyle's book of the same name, was made even more poignant in light of the man's death; he was tragically gunned down at a Texas shooting ranch back in 2013.
Aside from American Sniper, though, Blackhat also went up against another action-heavy film, Taken 3. Though it had already opened a week prior, it still beat Mann's film by a large margin. Kevin Hart's comedy The Wedding Ringer, Paddington and Selma filled out the remainder of the top 5 spots. The Blackhat reviews were accurate reflections of its box-office placement. Our own Eric Eisenberg called it "largely underwhelming," while The Atlantic bashed its pandering to international audiences and Deadspin described it more as a "parody of a Michael Mann movie" instead of an actual Michael Mann movie.
It's possible that the film could still gain more traction in the weeks to come, especially as more international audiences see it, but these numbers are overwhelmingly depressing. Thankfully for Hemsworth, he's got a lot going on already that this isn't a major blow to his celebrity stock. Aside from being the reigning Sexiest Man Alive, he's also got Avengers: Age of Ultron coming out this year, as well as his Moby Dick drama In the Heart of the Sea, which he did with his Rush buddy Ron Howard.
Your Daily Blend of Entertainment News
Thank you for signing up to CinemaBlend. You will receive a verification email shortly.
There was a problem. Please refresh the page and try again.