Blake Lively Denies Sex And The City Prequel Rumors, Joins Chloe Moretz In Hick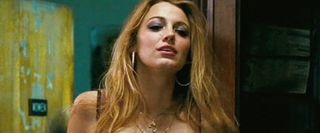 Just a day after Sarah Jessica Parker floated a hint that she'd be OK starring in a third Sex and the City, Blake Lively has quashed a related rumor we all had a hard time believing anyway. Talking to ITN at the Elle Style Awards, Lively said rumors of her participation in a Sex and the City prequel are "not true," meaning she won't be playing the younger version of Carrie Bradshaw seen in Candance Bushnell's prequel book The Carrie Diaries.
Instead of just denying and moving on down the red carpet, though, Lively revealed that she'll be taking a role instead in Hick, already starring Chloe Moretz as a 13-year-old Nebraska girl who runs away from home and lights out for Las Vegas. There's a little more information in a Variety story, which says Lively will play a grifter who meets Moretz on her travels, and Eddie Redmayne has signed on for another role as a different road wanderer. As of last November The Playlist was reporting that Kirsten Dunst would be playing the female drifter character, but the fact that Lively has snagged a role meant for Dunst sounds about right given each actress and their current level of fame.
Lymelife director Derick Martini will be directing this film, which is based on Andrea Portes's coming-of-age novel. Lively clearly has a penchant for playing characters who get her away from her Gossip Girl image, and won some pretty solid reviews for playing another drug-addled mom in last fall's The Town. Though Lively may be trying a little too hard to get "serious actress" creds by playing so many blue-collar burnouts, it's kind of nice to hear that rather than playing another character who roams New York in designer clothes, Lively is taking on a project that's more of a challenge.
Staff Writer at CinemaBlend
Your Daily Blend of Entertainment News
Thank you for signing up to CinemaBlend. You will receive a verification email shortly.
There was a problem. Please refresh the page and try again.