Bloody New Conan Photos May Reveal The Barbarian Movie's Villain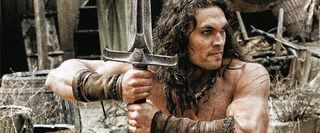 Empire Magazine debuted some pretty amazing new photos from the upcoming remake of Conan the Barbarian. The redo is directed by Marcus Nispel, with Jason Momoa taking on the role that made Arnold Schwarzenegger a household name. Somehow I doubt it'll do the same for him, heck it seems kind of impossible that this movie could ever be as good made in a modern way, but most of the photos we've seen from it look good anyway.
The images below come to you via Conan Movie Blog, where the have even bigger versions (or hey, just hunt down a copy of Empire). They're gritty and dirty and bloody, and thus good, but still not as good as these boob-filled photos. They do however give us our first look at would could be the character "Remo", an unannounced part of the film who could be the movie's villain. See what could be Remo in this photo.
Browse through the latest Conan remake images below.
Your Daily Blend of Entertainment News
Thank you for signing up to CinemaBlend. You will receive a verification email shortly.
There was a problem. Please refresh the page and try again.