The Blunt Reason Jurassic World's Colin Trevorrow Won't Do A Star Wars Movie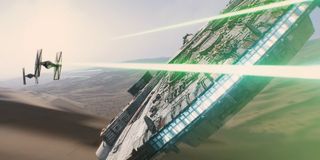 Lucasfilm is cultivating some impressive up-and-coming names around their Star Wars films. Aside from J.J. Abrams directing Star Wars: The Force Awakens, Rian Johnson of Looper will direct Episodes 8 and maybe 9, while Godzilla's Gareth Edwards is helming the anthology film, Rogue One. Josh Trank of Chronicle and Fantastic Four was on board for the second anthology, but dropped out over behind-the-scenes drama. Colin Trevorrow is another name that has ben linked to the resurrected franchise, but according to the Jurassic World helmer, he won't be tackling the galaxy far, far away any time soon.
When the filmmaker recently stated that he will not be returning to direct the sequel to his dino extravaganza, people began to wonder whether that meant he was being considered for another big blockbuster event (i.e. Star Wars). Speaking with MTV, Trevorrow put an end to those rumors, saying:
Often times with big-budget films it is no longer solely the filmmaker's, but rather a multiple person operation with heavy say coming down from the studios. We've seen this time and again with Marvel, as per admissions from Joss Whedon and the recent Edgar Wright dropout. For someone like Trevorrow, whose only feature film credit besides Jurassic World is the small but impressive indie Safety Not Guaranteed, he's not eager to rush back into the blockbuster landscape.
Nevertheless, he is still excited to see what Abrams, Edwards, and Johnson are cooking up. As he told MTV, he's a huge fan of Johnson's work and he's intrigued by the developments of all these anthology films. Watch his full comments in the video interview below.
Jurassic World is getting ready for its theatrical release later this week, and the early reactions have been mixed. Most praise Chris Pratt's performance as raptor researcher Owen, the practical effects, and the throwbacks to the original movies, while others critiqued the portrayal of the supporting characters, the obvious CGI, and the heavy product placement. Stay tuned for our review of the film, but we're already a fan of Trevorrow's work on Safety Not Guaranteed, so it's fair to give him the benefit of the doubt.
As for the Star Wars films, the only anthology film we know anything about is Rogue One, which stars Felicity Jones and focuses on a small rebel squad as they seek to steal the plans for the Death Star. Lucasfilm now has to worry about finding a new director to take over Trank's second anthology, and now that Trevorrow has already placed himself out of the running, they better find someone as equally promising.
Your Daily Blend of Entertainment News
Thank you for signing up to CinemaBlend. You will receive a verification email shortly.
There was a problem. Please refresh the page and try again.