The Blunt Reason Tom Hardy Left Suicide Squad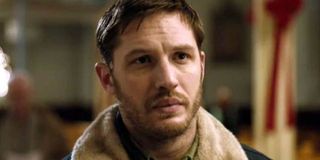 It was only yesterday that news broke of Tom Hardy's departure from the upcoming DC antihero comic book movie, Suicide Squad. And the announcement came along with a typical response to an actor's departure—that there were scheduling issues. But, we know better than to trust the phrase 'scheduling issues', and now the real reason came out, and to be blunt, Hardy simply did not like the script he was given.
Suicide Squad has already signed on some seriously big names with Will Smith set as Deadshot, Margot Robbie as Harley Quinn, Jared Leto as The Joker, Cara Delevingne as Enchantress, Jai Courtney as Captain Boomerang, and possibly Jesse Eisenberg and Viola Davis as Lex Luthor and Amanda Waller. Well, according to Latino-Review, it may just be that the big names attached to the film are part of the reason Hardy left. According to sources, Hardy was unhappy with the final script, and a drastic change to his character, Rick Flag. Rumor is that the latest draft upped Will Smith and Jared Leto's screen time.
It is unsure whether or not many of the actors saw the script of the film before they signed on to the DC comic adaptation, but if these rumors prove true, Hardy obviously felt a bit jipped by his cut or lack there of screentime. But with such a large cast of characters, it is hard to expect anyone getting much time over another. Was he expecting to have as large of a role as he did in his other DC film role, Bane in Christopher Nolan's The Dark Knight Rises? That seems completely unrealistic. But with the production of Alejandro Gonzalez Inarritu's The Revenant currently on his plate and his worldwide tour for the release of George Miller's Mad Max: Fury Road shortly ahead, Hardy does have a difficult schedule. And if he wasn't so thrilled with his character than maybe it didn't seem worth the added efforts.
But, while rumors suggest less screen time for Hardy, we are left wondering if he had such a problem with the changes in the script, was it because the script wasn't good? Or is it simply just wanting more of the spotlight? Either way, Warner Bros. didn't take any time off to grieve their loss, and already there are reports that the studio is eyeing Jake Gyllenhaal as his potential replacement. The character Hardy and now potentially Gyllenhaal may portray is Rick Flag, the leader of the Suicide Squad, a team of dangerous convicted criminals enlisted by the government to participate in a deadly black ops mission. Considering Gyllenhaal just came off of his film, Southpaw, he'd be in the perfect shape for the role, but there is no official statement on the actor yet. We'll keep an eye out for further progress on the casting, and Suicide Squad will hit theaters August 5, 2016.
Your Daily Blend of Entertainment News
Your Daily Blend of Entertainment News
Thank you for signing up to CinemaBlend. You will receive a verification email shortly.
There was a problem. Please refresh the page and try again.