Boarding School For Mischa Barton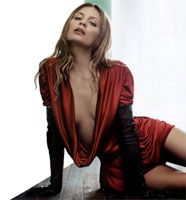 Mischa Barton has joined the cast of a girls boarding school caper comedy, and thus fulfilled the fantasies of the thousands of idiots who used to watch 'The O.C.'
Variety says the movie is called St. Trinians and it also stars Rupert Everett, Colin Firth, and 300's Lena Headey. Barnaby Thompson and Oliver Parker (not to be confused with Ol Parker, the son of a bitch who wrote the offensive piece of shit movie Imagine Me & You) are co-directing.
The cancellation of 'The O.C.' doesn't seem to have done much to hurt Mischa Barton's career. In fact, it's probably the best thing that ever happened to her. She's already finished three movies that are yet to be released, and has a fourth called Malice In Wonderland on her schedule. The fifth will be the one where she puts on a schoolgirl outfit.
Your Daily Blend of Entertainment News
Thank you for signing up to CinemaBlend. You will receive a verification email shortly.
There was a problem. Please refresh the page and try again.