The Boston Marathon Bombing Is Getting A Movie With The Perfect Lead Actor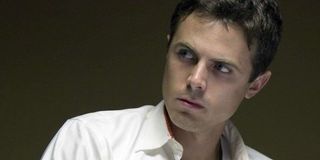 If you're going to make a movie about one of Boston's darkest hours, you'd better cast local, right? Right. Calling Casey Affleck!
Variety reports Casey Affleck is now attached to star in the docudrama about the 2013 Boston Marathon bombing. He will also produce alongside John Ridley (12 Years A Slave), and Dorothy Aufiero (The Fighter).
The movie may well be titled Boston Strong, after the non-fiction book by Casey Sherman and Dave Wedge on which it is based. The Fighter screenwriters Eric Johnson and Paul Tamasy penned the spec script, which focuses on the massive manhunt that followed the bombings, as well as exploring how the people of Boston reacted to this tragedy. At present, it's unclear what role Affleck will play in the narrative.
Casey Affleck was born in Falmouth, Massachusetts, but he and his family have strong ties to Boston. His father Timothy Byers Affleck worked at the Theater Company of Boston in the 1960s. Good Will Hunting, which featured Casey and brother Ben, shot in Boston, as has Ben's directorial debut Gone Baby Gone, which starred Casey. So, the star's attraction to this project is understood.
Interestingly, Casey Affleck hasn't done much producing. To date he's exec produced the Rugrats TV movie All Grown Up. (Yeah, that happened.) And he produced/directed the bizarre hoax/documentary/Joaquin Phoenix spectacle I'm Still Here. Nonetheless, with Affleck on board, Boston Strong's makers are finally gearing up to pitch the project to studios.
We first got word of this project in the summer of 2013, just four months after the Boston Marathon Bombing. At that time, Eric Johnson and Paul Tamasy had bought the rights to Casey Sherman and Dave Wedge's yet-to-be-published book Boston Strong with the aim of translating it either into a film or a television drama series. In April of 2014, Johnson and Tamasy met with EOne Television to discuss turning Boston Strong into a mini-series. But by summer those plans had crumbled. The pair have since regrouped, and come up with a package that could play well to studios if the budget is small.
Though Casey Affleck is an Academy Award-nominated actor (The Assassination of Jesse James by the Coward Robert Ford), he is not a box office draw in the way Ben Affleck (Gone Girl, Batman v. Superman ) is. Making Boston Strong a tougher sell is its topic, which moviegoers may not welcome seeing on the big screen so soon. When we did an informal poll of our readers in 2013, most showed disdain or reservations about adapting this tragedy into a film so soon after it occurred.
But an Oscar nominee and a true story that is compelling could be enough for a studio to take a chance here.
We'll give you more on Boston Strong as it develops.
Your Daily Blend of Entertainment News
Staff writer at CinemaBlend.