Bourne 5 Is Bringing Back A Pivotal, Original Character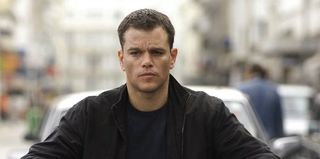 Not only are both franchise star Matt Damon and two-time series director Paul Greengrass returning to the Bourne franchise for the upcoming fifth installment (assuming you consider The Bourne Legacy canon), they're bringing along another key piece of the saga, Julia Stiles.
According to Deadline, the upcoming action film has been busy casting, and Stiles is now the first confirmed addition to the call sheet, beyond Damon that is. She is set to reprise her role of Nicolette "Nicky" Parsons, a desk jockey CIA analyst who, over the course of the first three movies, proves to be a valuable ally to Damon's amnesiac super spy, Jason Bourne.
Nicky start off as a relatively small in the larger saga, though she serves as a kind of moral compass inside of the CIA—apparently she thinks it's rather reprehensible to experiment with people and turn them into cold-blooded killing machines. In the first film, 2002's The Bourne Identity, she's basically there just to be held at gunpoint. Bourne also kidnaps her in The Bourne Supremacy, and in Ultimatum she thinks she's safe because she's gotten out of the intelligence game, but she still winds up the target of government assassins. She just can't win.
There have been a number of rumors connecting various actors to fill out the supporting ranks in Bourne 5, but thus are Stiles is the first one to sign up. Joan Allen's high-ranking CIA Director Pamela Land has played a key role in the last two Damon Bourne films, and seems a likely candidate to make a comeback. A few months ago it also came out that Alicia Vander, who has won a fair amount of recent acclaim for her turn in Ex Machina, among other films, was being pursued as the potential female lead, though nothing has been heard since and her schedule continues to fill up.
In addition to directing, Paul Greengrass is also writing the screenplay for Bourne 5, but there isn't much available in the way of details at this point. With a release date still set for just over a year from now, it seems like things should start to come together before too long. There has been speculation that Jeremy Renner's Aaron Cross could show up in some capacity. He was supposed to get a follow up to The Bourne Legacy that was going to be directed by Fast & Furious helmet Justin Lin, but that remains up in the air at this point.
The as yet untitled Bourne 5 was pushed back a few weeks from its original release date to July 29, 2016, likely to put some space between it and Star Trek 3, which opens earlier that month.
Your Daily Blend of Entertainment News
Thank you for signing up to CinemaBlend. You will receive a verification email shortly.
There was a problem. Please refresh the page and try again.