Boyhood Producer Promises He'll Do Your Chores If You Don't Like The Movie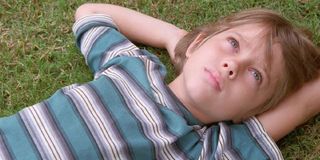 Richard Linklater's long-in-the-works coming-of-age drama Boyhood is getting tons of critical praise. Our own Sean O'Connell gave the indie five stars and called it, "the most ingenious, most effective, most experimental, most unpredictable, most demanding, most rewarding and most enjoyable movie I've screened." With reviews like these, it's understandable that Boyhood's makers are confident it will appeal to moviegoers as it expands in release this week. But one producer in particular is putting his time where his mouth is.
Producer John Sloss has had a hand in creating such celebrated cinema as Before Sunrise, Boys Don't Cry, Far From Heaven, Bernie and (of course) Boyhood. But despite the rave reviews, the last of these might seem a tough sale in summer movie season. Blame it on the influx of spectacle-driven tent poles like Transformers: Age of Extinction or Dawn of the Planet of the Apes. Blame it on Boyhood centering on an unknown actor Ellar Coltrane, as he ages from 5 to 18. Or blame it on a lengthy running time of 166 minutes. But if you think 2 ¾ hours is more than you care to risk on a widely acclaimed independent feature, Sloss has got a deal for you.
Yahoo reports John Sloss has promised a "Time Back Guarantee." In an e-mail to his newsletter recipients, Sloss wrote:
Imagine: a producer coming to your home and doing your dishes, scrubbing your floors, doing your laundry, or walking your dog! I wish some of the producers of the stinkers I've had to see this year had made that offer. My home would be positively spotless.
Sloss mentions that this is an offer he's made just once before. The first time he pitched his Time Back Guarantee was for the like-wise critically adored Exit Through The Gift Shop, a documentary that earned an Academy Award nomination for its compelling portrait of the street art scene and ability to make audiences question exactly how art is defined. There is one catch, however. You can only use it if you were on Sloss's newletter at the time it was offered. Sloss's Boyhood Time Back Guarantee is " strictly non-transferable."
Boyhood is now in theaters in New York and Los Angeles. It will open in 10 new markets this Friday.
Staff writer at CinemaBlend.
Your Daily Blend of Entertainment News
Thank you for signing up to CinemaBlend. You will receive a verification email shortly.
There was a problem. Please refresh the page and try again.