Brad Pitt Adds Marion Cotillard To His WWII Spy Drama, Get The Details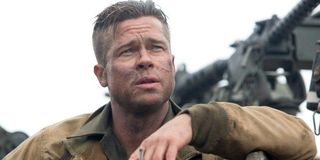 Brad Pitt clearly loves his World War II dramas. Fresh off the success of Inglorious Basterds and Fury, the actor has decided to once again return to the period for his next film, and he's bringing along Oscar-winng actress Marian Cotillard for the ride too.
According to The Wrap, the French actress has now signed on the dotted line for the untitled project, which will be a combined released from Paramount and New Regency. However, unlike Brad Pitt's two previously World War II-based excursions, this film, written by Steven Knight, is destined to be a more romantic, mysterious, and dramatic piece, without the colossal bloodshed of Fury and Inglorious Basterds. But as it's set during the Second World War I'm sure there will be some deaths for people to devour.
Pitt and Cottillard are set to play two assassin in the flick, and the stupendously attractive duo will fall in love during a mission to kill a German official. Told you there would be blood. In fact, the pair fall so much in love that they soon marry. However, their marriage is quickly ruined when he's told that his wife is a double agent working for the German government. It's made even worse when he's told that he then must kill her. Is it just me or does this material seem ripe for comedy too?
The film is actually shaping up very nicely indeed. Not only does it have two absolutely stellar stars on-board, both of whom ooze sex appeal and charisma, but it's also being directed by Robert Zemeckis. The Back To The Future and Forrest Gump director, who picked up an Academy Award for Best Director for his work on the latter, is currently putting the finishing touches to the intriguing The Walk.
It's certainly a change of pace for Zemeckis, who has spent most of the last decade working on special effects movies like The Polar Express, Beowulf, and A Christmas Carol, which have tried to fully utilise technological advancements in the medium. Even The Walk, which is a retelling of Philippe Petit's walk between the Twin Towers of the World Trade Center on August 7, 1974, is set to fully take advantage of 3D Imax in a way that hasn't been done before. This untitled romance should be a much more straight-forward film for Zemeckis though, and if he can eke out stunning performances from his two leads like he did with Denzel Washington in Flight then we should be on for a real winner.
Alongside Pitt, Cotillard, and Knight's involvement, Zemckis, Steve Starkey, and Graham King are producing the romantic spy drama, while Knight is also an executive producer with Jack Rapke, Patrick McCormick, and Denis O'Sullivan. Production was due to begin this fall, however, Zemckis will be too busy promoting The Walk and Cotillard is still shooting Assassin's Creed, so filming has been pushed back to start in early 2016.
Your Daily Blend of Entertainment News