Broadway Musical Memphis Headed For Movie Adaptation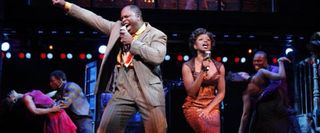 With Les Miserables coming this December, we might be due for a revival of the movie musical-- and there are no lack of Broadway hits that are dying to be translated to the screen and make that happen. While I'm still waiting for word that Trey Parker and Matt Stone's smash hit The Book of Mormon is becoming a film, there's word that another recent success will be heading to the screen, or at least getting picked up by a studio who wants to get it there.
According to The New York Times, Alcon Entertainment-- which is based at Warner Bros.-- is picking up the film rights to Memphis, the musical that won the Tony Award for Best Musical in 2010. Joe DiPietro, who wrote the book for ht musical and co-wrote the lyrics with David Bryan, will write the screenplay, adapting the story about a white DJ who makes waves by playing black music on the radio in segregated 1950s Memphis.
There's also a love story, of course, as the main character Huey falls for a black woman, Felicia, who's an aspiring singer. The play was a hit on Broadway and closed after 1,166 performances at the Shubert Theater earlier this year; it's currently touring all over the country, which should help build up a national audience in advance of a film adaptation. It sounds like we're a long way off from actually seeing the film version of Memphis, but if Les Miserables is a hit later this year, we might except a flood of Broadway-to-film adaptations on their way. As a die-hard lover of movie musicals, pretty much nothing would make me happier.
Your Daily Blend of Entertainment News
Staff Writer at CinemaBlend