Bruce Willis Just Bailed On His Latest Movie, Here's Why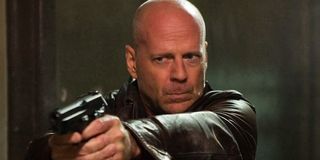 The Bruce Willis-fronted action thriller Wake has been in trouble for a while. Last month it came out that there was no more money to proceed, and now they've run into another major problem. Bruce Willis just bailed.
According to Deadline, the Die Hard star has another commitment and delays in production and time constraints caused an already small window of opportunity to close. The trade also reports that the star is not the only one to abandon the sinking ship, as director John Pogue (The Quiet Ones) has joined him on the life raft. If the production wasn't in dire straits before, it certainly is now after losing two fairly important pieces of the puzzle, like the star and the director.
To call Wake a sinking ship might actually be a bit of a misnomer. It may already be resting on the bottom of the ocean. Even John McClane may not have been able to save this. The production was able to get through a few days of shooting in February in Cleveland, which you have to imagine was bitterly cold, before it was shut down. Benaroya Pictures, the financial backers, assured the public that this was only a temporary delay and that filming would resume in a couple weeks. It was even scheduled to start again on March 23, according to the Greater Cleveland Film Commission, though that obviously didn't happen.
The international rights were sold at the Berlin Film Festival earlier this year, but even with that, other reports indicated Wake was already heading towards potential financial disaster as they scrambled to collect additional financial backers. There was a strong cast in place. In addition to Bruce Willis, the call sheet also included Ben Kingsley, Ellen Burstyn, Piper Perabo, and Cameron Monaghan, but all of them are also expected to scatter to the winds before long.
In Wake, Willis would have played a sociopath with no fear who returns to his childhood home on an isolated island to attend his brother's wake. Because nothing is ever that simple in movies, a team of mercenaries lays siege to the island for some undisclosed reason, and Willis' character is forced to protect and defend the family that kicked him to the curb years ago. Or at least he would have. That sounds like it could have been a solid, DTV-style action flick, a kind of Die Hard on an island, which has been done, but I'd still totally watch it.
This isn't the first time that Benaroya has run into similar money problems, it's just the most recent. Back in November of 2014, they had to shut down production on Idol's Eye, which had Robert De Niro and Robert Pattinson signed on to star. Again, they had to pull the plug because the financing disappeared in a puff of smoke. You have to wonder if this is just a coincidence or if it is indicative of some larger issue in house.
Your Daily Blend of Entertainment News
Your Daily Blend of Entertainment News
Thank you for signing up to CinemaBlend. You will receive a verification email shortly.
There was a problem. Please refresh the page and try again.