Robert De Niro Joins Robert Pattinson In Idol's Eye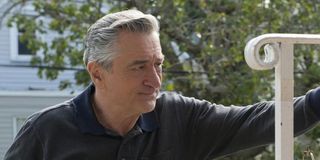 Every year is filled with dubious Robert De Niro choices, but most people forget that he tends to be pretty good, even in garbage. He's always been dedicated to his craft, whether he's working with Scorsese or Jay Roach. Now Olivier Assayas is going to be the next guy who shepherds a Robert De Niro performance, because it looks like the two of them are teaming up.
Deadline reports that De Niro is starring alongside Twilight sensation Robert Pattinson in Idol's Eye. The Assayas-directed film has an unrevealed plot thus far, but it's said to be a sophisticated heist thriller. You'd think this would be something more commercial, but this is Assayas we're talking about. His idea of "commercial suspense thriller" was the mind-bending Demonlover, set in the world of hentai company espionage, which can haunt the viewer years after they've caught the film. See a trailer below (NSFW) and realize why this could be a movie you talk about for years afterwards.
Olivier Assayas' last film, Clouds Of Sils Maria, created a stir at the Cannes Film Festival. That showed the auteur working with yet another Twilight star in Kristen Stewart. Now he gets Robert Pattinson for Idol's Eye, and the young actor has been on a crazy run of his own. He actually had two films at Cannes, the moody The Rover and David Cronenberg's Maps To The Stars. Pattinson's also recently worked with Werner Herzog (Queen Of The Desert) and Anton Corbijn (Life), so clearly he's got a handle on this finding-the-right-directors thing. He's not necessarily one of our great actors yet, but he's slowly evolving into one of our most interesting ones, and it would be a coup to have him performing with acting royalty in Robert De Niro.
De Niro, meanwhile, is slowing down after a busy couple of years, if his IMDb resume it to be trusted. Of course, De Niro's also a workaholic who likes to experiment, so it wouldn't be a surprise to learn that in addition to Idol's Eye, he's also in some direct-to-DVD slop coming out next month. He'll show up opposite Anne Hathaway in The Intern, and is also playing alongside Edgar Ramirez in the boxing film Hands Of Stone. He also continues to insist that The Irishman with Joe Pesci and Al Pacino is one of Martin Scorsese's next projects. Given that he got in the ring in last year's Grudge Match, it seems that, at least physically, De Niro isn't giving up.
Your Daily Blend of Entertainment News