Bruce Willis' Next Film Is In Serious Financial Trouble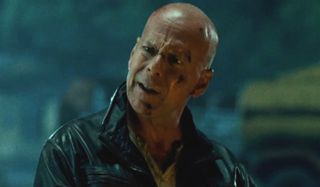 Bruce Willis has been filming his next movie, Wake, in the subzero temperatures of Cleveland, Ohio, but there's one major issue that's derailing production. No, it's not the frozen tundra. The real John McClane isn't afraid of frostbite. It's the fact that there's no more money to proceed, and if there's one thing Bruce Willis appreciates, it's a paycheck.
The Greater Cleveland Film Commission released an official statement (which can be read on Cleveland.com) confirming the news. It said, in part, that Benaroya Pictures is looking to "find the remaining funds" and remedy the situation as quickly as possible. The statement also read that they are "optimistic" that production will resume in "approximately 2-3 weeks."
A source close to the production told Deadline that things were headed towards this financial disaster for a while. As the trade notes, calls are currently going out to potential financial backers. If the situation can't be fixed soon, however, the problem will then become keeping all the actors involved. Aside from Willis, Cameron Monaghan (Shameless), Ben Kinglsey (Iron Man 3), Ellen Burstyn (The Age of Adeline) and Piper Perabo (Looper) are also involved in Wake, which is directed by John Pogue. Deadline reports that "other offers and projects are already on the table," and the actors have already returned home from the set as they wait to hear the fate of the film.
In Wake, Willis portrays a sociopath who heads back home to attend his brother's wake. (Get the title?!) Pretty soon, the place falls under siege by a team of mercenaries, and this man is now forced into protecting the family that banished him years ago. Production was set up in Cleveland in the dead of winter, as the story takes place during this harsh season on a remote island. Production was expected to proceed through mid-April, and Willis is said to have shot a few scenes. Though, it's unclear how far into production the crew reached before putting in the stopper.
Wake was introduced to international buyers at the Berlin Film Festival last month, and Willis' involvement in the film was announced shortly beforehand. Pogue has a slew of writing credits under his belt, but this is only his third feature film as a director. He previously helmed the second installment of the Quarantine films and the Sam Claflin-led horror film The Quiet Ones.
It'd be a shame to see Wake go back to sleep, but this isn't Benaroya's first financial hiccup. In November of this past year, the production company announced that they would be shutting down production on another one of their projects, Idol's Eye. The film would have teamed up Robert De Niro with Robert Pattison for a story based on Hillel Levin's 2007 Playboy article "Boosting the Big Tune." But that too was shut down because financing had dissolved. They did say in a press release that it was due to the fact that the producers kept missing their financial deadlines, but two of these similar circumstance within the span of four months is not good.
Your Daily Blend of Entertainment News