Bruce Willis Reminisces About The 80s On Between Two Ferns With Zach Galifianakis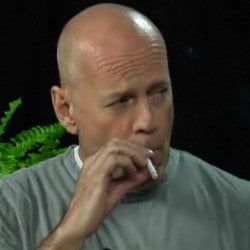 I always worry that the awkward interview gag of Zach Galifianakis' "Between Two Ferns" sketch at Funny or Die will wear itself thin, but I swear, every time he comes back it just gets funnier. This week he's sitting between the potted plants with Bruce Willis, ostensibly to promote RED but actually to ask him questions like "Which is your favorite child, Ashton?" and "When you were making The Whole Ten Yards were you ever worried it would be too good?" Willis gives nothing but stone-cold stares most of the time, but when he starts reminiscing about the 80s… well, you really just need to see it for yourself.
Check out the video below for your daily reminder why Bruce Willis makes this world a better place. I'm not going to say it's better than RED, but I will say no ferns catch on fire in the movie coming out this Friday. You can judge for yourself.
Between Two Ferns with Zach Galifianakis: Bruce Willis from Bruce Willis
Your Daily Blend of Entertainment News
Staff Writer at CinemaBlend