Bruce Willis Turns Into A Bad Guy For Action Movie The Prince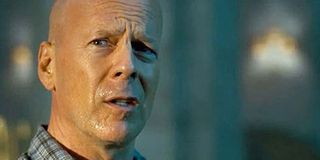 Another day, another report that Bruce Willis has signed up for another action movie. Out of Toronto International Film Festival, Deadline is reporting that Willis has committed to star in The Prince, an action thriller penned by Ride scribes Andre Fabrizio and Jeremy Passmore. But rather than fronting the thriller as its rough and tumble hero with a winning smirk, Willis is set to play the pic's villain.
The Prince will be helmed by American Heist director Sarik Andreasyan, and centers on a retired mobster enforcer out of Las Vegas. The unnamed tough guy left the life and Sin City behind him long ago, but is forced to return and face down old enemies when his teen daughter goes missing. Willis is set to play the man who's been looking forward to this enforcer's return, planning on a brutal confrontation. There's no word yet on who will star opposite Willis as this fearsome father. Frustratingly, the log line doesn't even give an age-range for the character to help us speculate. We're likely to hear more soon, though, with The Prince is set to shoot in New Orleans next month.
It's interesting to see Willis taking on the baddie role here, but even more surprising is its low budget of just $15 million. The US production company Emmett/Furla Films has made some star-studded films that boast leaner budgets, like the Dwayne Johnson/Liam Hemsworth vehicle Empire State ($11 million) and the Mark Wahlberg/Russell Crowe double-hander Broken City ($35 million) However, when fronted by an old-school action star—say Willis contemporaries Arnold Schwarzenegger and Sylvester Stallone in the upcoming Escape Plan--the budget gets beefed up to the $70 million range. It's possible The Prince's lower budget reflects Willis's smaller role in the film, lowering its expectations. Or maybe Willis isn't considered as bankable as he once was.
With the release of three big-budgeted action movies (A Good Day to Die Hard, G.I. Joe: Retaliation, and Red 2), 2013 should have been a(nother) major year for the long-standing action star. But instead this trio was a mixed bag for Willis's reputation. First off, A Good Day to Die Hard was loathed by critics— myself included—and has been called among the worst of the franchise. The $92 million action movie made only $67 million domestically, but was saved in the international markets where it earned more than $230 mil. G.I. Joe: Retaliation, in which Willis has a smaller Joe role, got a slightly warmer reception from critics (I adored it for all its insanity), but the $130 million production also failed to make its budget back domestically, earning just $122 million. Again, the international market saved the day, paying out $249 million. The same pattern went for the Willis-fronted action-comedy Red 2. The $84 million sequel received an unwelcomed reception from critics, and went on to earn only $52 million in the US. But it was bailed out by overseas numbers of $67 million.
Clearly, Willis is still a desirable commodity overseas, but in the U.S. his star power seems to be fading. His recent audacious demands and bad junket behavior are likely not helping. All in all, it seems a smart move on Emmett/Furla's part to include Willis but keep the budget down. With Lionsgate set to distribute in the US, the production company will likely avoid the costs of print and advertising, and Hannibal Pictures is set to sell the feature overseas, where Willis seems a guaranteed asset. Once The Prince's lead is put in place, we'll have a better idea of what to expect on the front of domestic success.
Staff writer at CinemaBlend.
Your Daily Blend of Entertainment News
Thank you for signing up to CinemaBlend. You will receive a verification email shortly.
There was a problem. Please refresh the page and try again.