Bully Gets R-Rating Prompts Weinstein Rebellion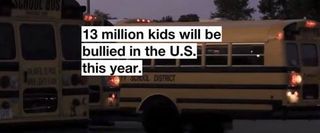 The Motion Picture Association of America has once again infuriated the Weinstein Company over an aggressively conservative rating decision. In their latest battle, the organization that defines movie ratings has deemed the documentary Bully--formerly The Bully Project--worthy of an R-rating, which would discourage if not bar school children from seeing the film that was made to educate them about the dangerous consequences of bullying. The MPAA has cited concerns over "some language" to explain their decision, but it's likely the very words they object to having children hear, are the same offensive words being hurled daily by children and at children across the country, including Bully's tormented subjects, who bravely share their stories of abuse.
Hoping for an appeal of the R-rating, Harvey Weinstein brought one of these kids, 14-year-old Alex Libby, to speak on the film's relevance to his peers. But despite Libby's noble efforts and ardent plea, the MPAA decided to keep the R-rating by a margin of one vote. Weinstein, who memorably tussled with the MPAA last winter over Blue Valentine's initial NC-17 rating, offered a shocking response in the form of this press release:
Unfortunately, the MPAA doesn't seem concerned, as one snooty insider told Deadline, "[Harvey Weinstein] is not a member so he can't take a leave. He might choose not to have his films rated, which is his right. It is up to theaters if they want to show unrated films. Some do. Others don't." This shady figure dismissed TWC's press release as "pure publicity."
Now I won't disagree that Weinstein's statement isn't a publicity tactic, but it is also a call to arms, and not just to activists looking to tackle America's troubling bully epidemic. This controversy will also attract those who have long believed that the MPAA, which began the rating system in 1968 to prevent government intervention, has devolved into a dinosaur with an outdated moral code that regularly suffocates and censors groundbreaking new cinema. Weinstein is practically a patron saint in the fight to bring change to the MPAA. And despite the diplomacy in his statement, he's clearly looking for some powerful new allies in his war against the organization, like the First Lady. I mean, come on, that's a pretty ballsy move.
In a statement of their own, the MPAA defended their decision, relying on their tired claim that they speak for the parents of America, despite the fact that the organization is notoriously secretive about the members of its board. At this point, it doesn't seem the MPAA will be budging, but it will be interesting to see what Weinstein's next move will be and whether or not Bully will open on March 9th with an R rating, or no rating at all.
Your Daily Blend of Entertainment News
Staff writer at CinemaBlend.