Cameron Diaz And Benicio Del Toro Going Rom-Com Together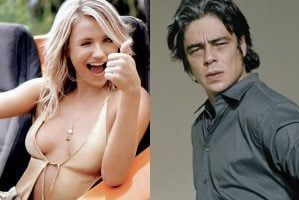 Cameron Diaz and Benicio Del Toro-- not exactly a match you were predicting, particularly as a warring romantic comedy duo. I mean Diaz is squarely within the romantic comedy wheelhouse, and had her own romantic with Ashton Kutcher back in What Happened In Vegas. But Del Toro's two most recent roles have been Che Guevara in Steven Soderbergh's sprawling biopic, and The Wolfman-- not exactly a clear path to a chick flick.
And yet here we are, with Deadline Holywood reporting that Diaz and Del Toro will headline, An Ex To Grind, an adaptation of Jane Heller's 2005 novel about a woman trying to set up her slovenly ex with a new wife so she won't have to pay alimony to take care of him. If that weren't complicated enough, the new woman shapes up the husband so much that the ex-wife wants him back after all.
As weird as it sounds, there's actually a Che connection here-- producer Laura Bickford worked with del Toro on that film, and apparently the two have been working for another project to work on together. Not sure how they wound up settling on this one, but I actually wouldn't mind seeing del Toro in a romantic role. Diaz I could take or leave, but it might be interesting to see what happens to her when paired with an actor of Del Toro's caliber. Yes, this might be stretching, but I've decided to see the positives in what's otherwise a pretty lame rom-com premise. Maybe this optimism will somehow actually be rewarded.
Your Daily Blend of Entertainment News
Staff Writer at CinemaBlend