Can Edgy Thriller The Falling Finally Give Zac Efron A Real Career?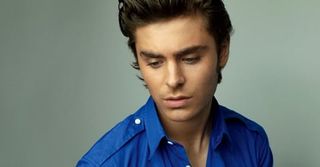 When you think of fresh-faced young actors who started out cute but are angling to get serious, Zac Efron is still somewhere near the top of your mind-- but he's losing ground shortly. In fact he just finished shooting Are We Actually Dating? with two co-stars, Miles Teller and Michael B. Jordan, who earned so much buzz at Sundance for their respective performances in The Spectacular Now and Fruitvale that they might be surpassing Efron before the year is out.
If Zac's going to stick around, he's gonna have to make his move soon, and there's probably a worse one than teaming up with Akiva Goldsman. According to THR Efron will be starring in and producing The Falling, with Goldsman producing as well, and the implication in the THR article being that he'll direct. The Oscar-winning screenwriter is gearing up to shoot his directorial debut The Winter's Tale, with a cast that includes Colin Farrell, Will Smith and Russell Crowe.
As for The Falling, the hunt is on for a screenwriter to tackle a story cooked up within the studio. Yes, I know that's a red flag, and while I thought Efron was past the age where studios jerry-rigged ridiculous plots to suit his talents (17 Again, I still love you, but you are ridiculous), that could easily be what's happening here. But despite his disappointing turns in The Paperboy and the upcoming At Any Price, I still think Efron has what it takes to be an honest-to-God movie star if he could just find the one non-High School Musical role to let him prove it. The notion of an edgy thriller certainly seems like a step in the right direction. Are we finally going to let this kid out of his singing and dancing high school and into a real career?
Staff Writer at CinemaBlend
Your Daily Blend of Entertainment News
Thank you for signing up to CinemaBlend. You will receive a verification email shortly.
There was a problem. Please refresh the page and try again.