Captain America: The Winter Soldier Bringing Back Dominic Cooper As Howard Stark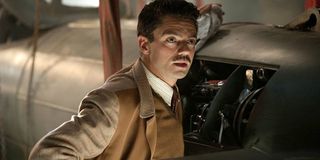 In Iron Man 3, as what seemed like a direct jab at the scenes in Iron Man 2 in which Tony Stark obsesses over his relationship with his father, Tony tells the Tenneesse kid played by Ty Simpkins to get over his issues with his own father: "Dads leave. No need to be a pussy about it." Howard Stark's looming shadow over Iron Man 2 was far from the worst thing about it, but t was nice to see Tony willing to move on-- especially since we'd since seen Dominic Cooper play the young Howard Stark in Captain America: The First Avenger as a guy so charming we couldn't stand to resent him.
Even though Cap has now made his way into the present day, and the upcoming Captain America: The Winter Soldier will take place long after World War II, there's still time for one more dashing Howard Stark appearance. Talking to Total Film (via Comic Book Movie), Cooper revealed that he has stepped back into Howard Stark's shoes once more-- though even he's not sure how much of the movie will wind up including him:
Given that Howard Stark is no longer around at the time of The Avengers, we can safely assume Cooper is stepping in to play him as part of the flashback sequence that we hear will also bring back Hayley Atwell as Peggy Carter. Though Winter Soldier has been in production for a while now, revealing a few set photos and confirming Scarlett Johansson's expanded role, we still don't know a ton about where it will take the story. We've been told it's a political thriller, and that the title hints toward the return of Cap's former sidekick Bucky Barnes (Sesastian Stan), now a villain. If Cap gets nostalgic about his days in the war with Bucky, it's not hard to imagine a flashback sequence popping up to accompany it.
Captain America: The Winter Soldier, directed by Community veterans Joe and Anthony Russo, comes to theaters April 4 next year. You can click here for everything else we know about it.
Staff Writer at CinemaBlend
Your Daily Blend of Entertainment News
Thank you for signing up to CinemaBlend. You will receive a verification email shortly.
There was a problem. Please refresh the page and try again.