Captain Jack Sparrow Fighting Steampunk Captain Nemo In Pirates 4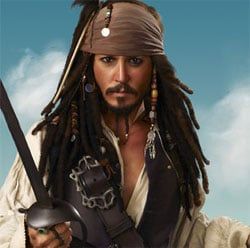 It was way back in 2007 that we were the first and only website to deliver details on what Disney might be planning for the inevitable fourth Pirates of the Caribbean movie. Read our original story right here because now as the fourth movie draws closer to swinging into production our scoop is being confirmed by other sources.
That confirmation comes from Hollywood-Elsewhere where they say the plot of the film will involve a search for the Fountain of Youth. More importantly, there will be a Captain Nemo-type villain using more modern technology. They postulate that they're going for a steampunk asthetic
All of that jives with our 2007 report in which our scooper told us, "Jerry Bruckheimer could be planning to enter the realm of Science Fiction this time around." More specifically, "Some of the brainstorming going around involves some Jules Verne type of scenarios." In fact our scooper even hinted at Captain Nemo as one of the villains.
It's all still rumor until there's some sort of official confirmation, but so far Pirates of the Caribbean 4 seems to be unfolding as expected.
Your Daily Blend of Entertainment News