Cate Blanchett And Mia Wasikowska To Make Directorial Debut On The Turning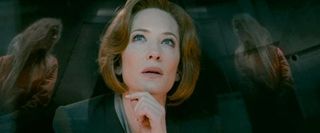 First, Paris, je t'aime captured the magic of the City of Love through the collaborative vision of an intriguing array of directors. Then a fresh batch of filmmakers reveled in the glory of the Big Apple with New York, I Love You, and now the western coast of Australia is getting its own multi-helmer celebration with The Turning. Based on Tim Winton's lauded book of short stories, this drama will feature vignettes directed by 17 filmmakers. THR reveals that among the names attached to the project are acclaimed Aussie actors Cate Blanchett, Mia Wasikowska and David Wenham, each of whom will be making their directorial debut with this omnibus effort. Also attached at present are Benedict Andrews, Jonathan auf der Heide, Tony Ayres, Shaun Gladwell, Rhys Graham, Justin Kurzel Ian Meadows, Yaron Lifschitz, Claire McCarthy, Ashlee Page and Stephen Page.
Rather than one flowing narrative, the tales in Winton's Turning are connected through the theme of change, be it changes of heart or direction either literal or metaphorical. Set in and around a small rural town near Perth, these stories offer insight into the lives of modern Australians through their thoughtful portraits of the strained relationship of two brothers, the abandonment of a family by their patriarch, and the struggle of a grown man confronting the ghosts of his past. With so many stories to tell, this multi-director approach seems fitting. Ruth Harley, CEO of Screen Australia which has provided about $4.71 million in funding for the feature, expresses her hopes for The Turning thusly:
Focusing on Australian talent could give The Turning a nationalistic edge over a similar short-centered project, Sydney Unplugged, which counts Americans Liev Schreiber (Everything is Illuminated) and John Curran (The Painted Veil), Brits Rachel Ward (Beautiful Kate) and Ray Lawrence (Lantana), and Kiwi Russell Crowe, among its ranks of Aussie auteurs like Anthony LaPaglia (surprisingly born in Adelaide, South Australia), Toni Collette, David Michôd (Animal Kingdom), Ivan Sen (Toomelah), Kieran Darcy-Smith (Wish You Were Here), and Alex Proyas (Dark City). But, with such remarkable talent already committed to both, why choose just one?
Your Daily Blend of Entertainment News
Staff writer at CinemaBlend.