Cate Blanchett And Mia Wasikowska Will Seduce Each Other In John Crowley's Carol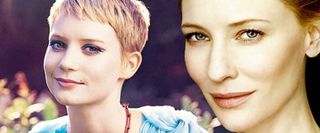 The novels of mystery writer Patricia Highsmith have been inspiring film and television thrillers since 1951, when Alfred Hitchcock translated her Strangers on a Train into a blockbuster and haunting classic. Highsmith has developed a reputation for twisted tales of violence and murder, but her latest adaptation will focus on a more elusive theme in her works: the love that dare not speak its name.
Number 9 Films and Film4 are co-producing Carol, a drama based on Highsmith's controversial novel The Price of Salt, and have secured coveted leading ladies Cate Blanchett and Mia Wasikowska to star. Boy A helmer John Crowley will direct the adaptation, translated to screen by Phyllis Nagy, who wrote and directed the Ben Kingsley-Annette Bening drama Mrs. Harris. Originally published under a pseudonym in 1952, Highsmith's book centered on the romantic relationship that evolved between two women, Carol and Therese, who meet in a bustling New York City department store. At the time, the book was considered scandalous because rather than being a fable of sorts that condemned its lesbian lovers to scorn and tragedy, The Price of Salt took the risk of a happy, gay ending.
Wasikowska will play Therese, a twenty-something store clerk whose deep loneliness subsides in the presence of the glamorous and mysterious Carol. Blanchett will portray the eponymous heroine who is coping with the breakup of her marriage, and struggling to stay connected to her daughter. Her ex-husband, having discovered the Sapphic pair's relationship, threatens to sue for full-custody, putting an incredible strain on Therese and Carol's blossoming bond. It's easy to see why the story of The Price of Salt is relevant today, and with two such lauded and talented actresses on board, this movie adaptation seems destined to generate plenty of buzz come award season next year.
Carol will go into production February 2013 in London and New York.
Staff writer at CinemaBlend.
Your Daily Blend of Entertainment News
Thank you for signing up to CinemaBlend. You will receive a verification email shortly.
There was a problem. Please refresh the page and try again.