Celebrate 15 Years Of X-Men Movies With Exclusive Rogue Cut Video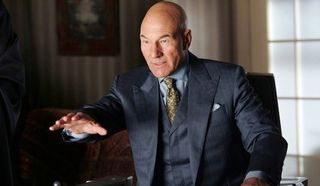 San Diego Comic-Con kicks off this week, but in addition to that celebration of all things geeky and awesome, we're getting ready to mark another milestone. Almost fifteen years ago, on July 14, 2000, we got our first look at Bryan Singer's X-Men. July 14, 2015 will see the release of the highly touted X-Men: Days of Future Past – Rogue Cut, and to hype that release, as well as the anniversary, we've got this exclusive new video that looks at Professor Charles Xavier through the years. Check it out below.
There are bits and pieces and scenes left out of every movie in the editing room. You can never find room for everything, and those movies that try wind up jumbled and messy. While we're used to seeing home releases with all manner of deleted scenes, The Rogue Cut, is being billed as an alternate version of Days of Future Past. It restores numerous scenes, totaling more than eleven minutes of footage, most of which revolves around a subplot featuring Anna Paquin's Rogue from the earlier X-Men films.
As we saw it in the theaters, Rogue only shows up for a cameo at the tail end of Days of Future Past. Originally, however, she played a much more important part. That story thread was ultimately trimmed from the final product for pacing and length, but come next week we'll get a look at how she originally figured into the time-hopping story that sees multiple generations of mutants come together to save all mutant kind from the scourge of the Sentinels.
But if you just can't wait until next week—a week from today oddly enough—you'll have a chance to see The Rogue Cut on the big screen this weekend at Comic-Con. It will screen simultaneously on four different screens for those of you lucky or brave enough to attend, and you will have the opportunity to check it out for yourself on Saturday, July 11, at 8:00pm at the Reading Theater in San Diego's Gaslamp District.
You have to imagine that's going to fill up in short order, so if you're interested, you'll probably want to get on that before long. But if you're inclined to wait, or you, like most of us, aren't going to be in San Diego this weekend, the Blu-ray release sounds like a sweet deal. Not only do you get X-Men: Days of Future Past – Rogue Cut to have and to hold for your very own, it comes with more than 90 minutes worth of extra material including even more deleted scenes, some featurettes digging into the film and the franchise, and even a gag reel if you're into such things.
Your Daily Blend of Entertainment News
Thank you for signing up to CinemaBlend. You will receive a verification email shortly.
There was a problem. Please refresh the page and try again.