Watch Bill Hader Tell The Hysterical Story Behind His Worst SNL Skit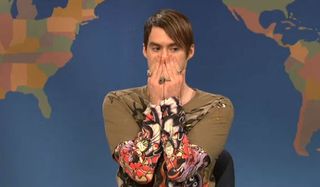 This year marks the 40th anniversary of one of the most beloved comedy sketch shows to ever grace the small screen, and in honor of its success some of the biggest names in comedy (who often started their careers on the show) will show up to celebrate tonight on an anniversary special of NBC's Saturday Night Live. Among them, Bill Hader, who recently talked about his long run as a regular on the show and one specific sketch that he deems one of the worst he ever had to do. Watch as he tells hysterical story behind his terrible "Fart Face" skit on CBS' Late Show with David Letterman.
Basically Hader explaining the whole story behind the sketch was way funnier than the sketch itself. It debuted in Season 34 of the show back in 2008, and apparently despite the sketch bombing during the dress rehearsal, Lorne Michaels, creator of SNL loved it. So if Michaels wants to see it done, it gets done. And that it did, to an even less enthused crowd. It's all in Hader's delivery though, he's just a terrific story teller. Blame it on the facial expressions, or on his quirky impressions, but I just want him to tell me stories all day every day. So back to the sketch though, the concept was that there are two businessmen Jerry and Carl, played by Hader and Will Forte, and Jerry has decided to call his coworker "fart face". When Josh Brolin shows up, the whole bit goes too far, and Brolin's character ends the sketch in tears from being called a "fart face" as well. Don't believe it is as bad as Hader describes it. No really, it is that dry.
SNL has had its ups and downs, but it continues to churn out some of our favorite comedic actors including Hader, Forte, Kristen Wiig, Amy Poehler, Tina Fey, and the list goes on and on. The funniest part of this story though, is how aware Hader was at how bad the sketch was, but of course, the show must go on. And I think that is very telling of what SNL has become. Some sketches aren't great. That's not the comedians fault, or the actor portraying them, but sometimes, it's just pushed into motion from one man who runs the show.
In a recent interview with NY Post, Lorne Michaels talked about the show he brought to life 40 years ago, and upon asked which sketches or characters stand out most to him, he responded:
Hm Mr. Michaels, not sure you know what silence feels like, but if Hader is explaining the dress rehearsal of "Fart Face" as so quiet that he could hear his own foot steps and his jacket moving around, how did he put it, oh right, "total silence". No hate towards Lorne Michaels though, because his baby, SNL, continues to do some awesome sketches every so often. How about Kate McKinnon's Justin Bieber Calvin Klein Ad sketch, or that hilarious "The Office: Middle Earth" sketch featuring Martin Freeman. And be sure to expect plenty of hysterical sketches on tonights 40th anniversary special on NBC.
Your Daily Blend of Entertainment News