Charlize Theron To Star In Remake Of Dutch Horror Flick Zwart Water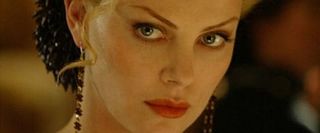 Charlize Theron is diving deep into genre projects these days, already onboard high-profile upcoming flicks such as Ridley Scott's Prometheus and playing the Evil Queen in Snow White and the Huntsman. Now she's adding another one to the docket: according to the The Hollywood Reporter she will star in and produce a remake of the Dutch horror movie Zwart Water, which was retitled Two Eyes Staring for its international release. (The original title translates to "Dark Water," I believe.)
Theron's Denver and Delilah Films picked up the remake rights to Zwart Water last year and hired the Exorcism of Emily Rose team of Scott Derrickson and Paul Boardman to write the script. Derrickson will also be behind the camera as the remake's director. He last helmed the remake of The Day the Earth Stood Still, so judge that as you may.
Two Eyes Staring (or Zwart Water, whichever you prefer) tells the story of a mother and her nine-year-old daughter who move into a new home, where the girl soon makes a friend: Karen, a strange young girl she finds in the basement. Creepy basement girls are bad enough in and of themselves, but things take a turn for the worse when the mysterious girl claims to be the dead twin sister of the mother. At that point, there is a tearful reunion between the long-lost siblings, everything is reconciled, and Karen ascends to a joyous afterlife on a column of candy-flavored lightning.
I may have made up some of that. This is, after all, a horror movie.
Your Daily Blend of Entertainment News
Thank you for signing up to CinemaBlend. You will receive a verification email shortly.
There was a problem. Please refresh the page and try again.