Chevy Chase And Beverly D'Angelo To Return In Vacation Reboot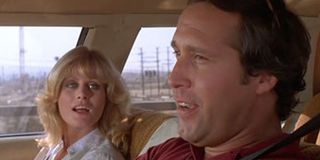 Over the course of a 45-year-career, Chevy Chase has starred in a number of classic comedies, including Caddyshack, Fletch and Three Amigos!. But his most beloved role is undoubtedly that of Clark Griswold, the frazzled family man at the center of National Lampoon's Vacation movies. From a cross-country road trip to Christmas mayhem, Europe and Vegas, Clark, his loving wife Ellen and their kids couldn't get a break, and audiences couldn't get enough.
It's been 16 years since the last Vacation movie and Wedding Crashers director David Dobkin is getting the band back together with a new movie. When word of this reboot spread, fans were quick to declare a reboot without Chase and his co-star/onscreen wife of four funny features Beverly D'Angelo would be a travesty. Thankfully, it's looking like travesty will be avoided as Dobkin, in producer mode, has been courting Chase and D'Angelo hard. Variety reports both are in early talks to join the film.
This currently untitled Vacation movie will be written and helmed by John Francis Daley and Jonathan Goldstein, who penned Horrible Bosses and The Incredible Burt Wonderstone together. This misadventure will center on Clark's son Rusty, who is all grown-up with a dysfunctional family of his own to torment on a road trip, one stop of which will be visiting with his hilarious oft-in-peril parents. Chase and D'Angelo's roles will likely be more in the cameo range, but I'd expect them to be a standout.
Also in talks is Christina Applegate, who is up for the role of Rusty's wife. And attached to fill the role that's been played by Johnny Galecki, Anthony Michael Hall, Jason Lively, and Ethan Embry is The Hangover's Ed Helms. While you might still be groaning over news of another reboot, take heart in that this one is being put together by some seriously solid comedic talent.
Staff writer at CinemaBlend.
Your Daily Blend of Entertainment News
Thank you for signing up to CinemaBlend. You will receive a verification email shortly.
There was a problem. Please refresh the page and try again.