Chevy Chase's Weirdest Film Is Getting Remade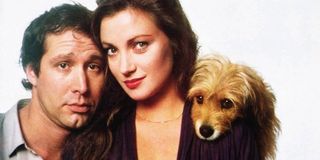 The 1980s were a magical time, a time when you could make a movie about a private investigator reincarnated as a dog to avoid going to hell. And now it turns out that one of Chevy Chase's most bizarre movies, Oh! Heavenly Dog, is getting remade.
According to The Hollywood Reporter, Fox 2000 is ramping up development on a new version of Oh! Heavenly Dog. Tim Hill, who re-launched the Alvin and the Chipmunks franchise back in 2007, and helped develop SpongeBob Squarepants, is in line to direct the remake. Dave Johnson will handle the scripting duties, and Temple Hill, the production company behind The Maze Runner franchise, will handle that side of things.
As Hill is also responsible for the likes of Muppets from Space, Garfield 2, and the Easter Bunny comedy Hop, so it feels like we're in for a live-action/animation hybrid when the revamped Oh! Heavenly Dog hits. I really hope they keep the name, and the intrinsic weirdness.
For those of you who don't remember the 1980 comedy, or who read the title and asked, "What the hell is that?" the film is as strange as it sounds. Directed by frequent Benji writer and director Joe Camp, Chevy Chase stars as Browning, a private detective with a bad cold (that's a key plot point), who, while investigating a case from a mysterious client, stumbles across the corpse of a young woman and is subsequently stabbed to death. When he arrives at the Pearly Gates, he finds out that it hasn't been decided whether or not he's going to go to Heaven or Hell, and he's given one last shot at redemption.
So, he's sent back to Earth as a dog—because why not—and given the job of solving the crime, including his own murder. What follows is…as odd as you expect it to be. A cute, fluffy dog, with the voice of Chevy Chase, roams around trying to save the day. Watching a dog dial the phone is pretty hilarious, and things to get…we'll just call them weirdly sexual.
Oh! Heavenly Dog is also a rather star-studded affair. In addition to Chevy Chase, who was fresh off of his stint on Saturday Night Live and on the cusp of Caddyshack, which was his next movie, the film co-starred Jane Seymour and Omar Sharif. Not only that, the dog was something of Hollywood royalty as well. Credited as Benji, the canine star of the show is actually Benjean, the daughter of Higgins, the dog who originated the role of Benji. She also went on to star in Benji, Zax & the Alien Prince, which is totally a thing that really happened, and the 1987 adventure Benji the Hunted.
We don't know when Oh! Heavenly Dog will arrive, but this is just weird enough that we can't help but be curious as hell.
Your Daily Blend of Entertainment News
Thank you for signing up to CinemaBlend. You will receive a verification email shortly.
There was a problem. Please refresh the page and try again.