Alvin & The Chipmunks Is Getting A 4th Movie Because Money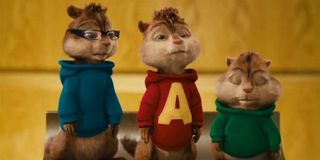 The billion-dollar franchise is back in action and moving forward on a new Alvin and the Chipmunks movie. We'll admit, the first film wasn't too shabby, but between The Squeakquel and Chip-Wrecked the quality hasn't quite been five stars. So why another film? Well, believe it or not, the franchise has already banked over $1 billion, and a new film is pretty much a guarantee for more money flow.
While plot details have not been divulged, the title, Alvin and the Chipmunks: Road Chip sounds like the band is going on tour. The Hollywood Reporter announced the director that has signed on for the project. Walt Becker known for Van Wilder: Party Liaison, Wild Hogs, and the Disney film with John Travolta and Robin Williams, Old Dogs, has signed on to direct the fourth film. He'll pair with screenwriters Adam Sztykiel (Due Date) and Randi Mayem Singer (Mrs. Doubtfire) for the live-action/GG hybrid film. It is still unclear whether or not the previous Chipmunks including Justin Long, Matthew Gray Gubler and Jesse McCartney will return to voice their characters, but if this film is to fit in the series, we can guess that they will probably be back singing their favorite chipmunk cover songs.
It's pretty wild though, that each movie has grossed such an insane amount of money despite critical and negative reviews. The first film released in 2009 Alvin and the Chipmunks earned $361 million worldwide. The second earned even more, Alvin and the Chipmunks: The Squeakquel banked $443 million. And while the last movie didn't do quite as well during its 2011 release it still earned $342 million worldwide.
So really, it's no surprise that 20th Century Fox hopped on the train to get a new Alvin and the Chipmunks movie rolling, it's a guarantee money-maker. Even back when David Cross attempted to defend his decision to appear in the movie, Alvin and the Chipmunks: Chip-Wrecked, it all came down to the money. The actor took home $150 million after only three weeks. He used the money to put a down-payment on his house. And while fans of his thought it was a sell-out move that totally killed his cred, Cross finally admitted his own disgust at the project and the awful experience he had with it. But what it really came down to, was Cross telling his fans, 'hey guys, stupid kid movies pay the bills'. And sometimes, actor's have to cash in, but at what cost?
We'll see who caves in to the money-making machine that is Alvin and the Chipmunks for this next film. And if there are any big names, it's probably because they need some extra dough. Alvin and the Chipmunks: Road Chip is scheduled to release December 16, 2016.
Your Daily Blend of Entertainment News