Chloe Grace Moretz Lands Lead Role In Best-Selling Illness Biopic Brain On Fire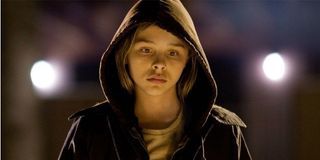 Having already excelled in the likes of Kick Ass, Let Me In, Hugo, and Carrie, the world is waiting to see where Chloe Grace Moretz's career veers over the next few years. From the sound of things, the 18-year-old actress is looking to tackle weightier and more complex roles, which is why she has signed up to star in Brain On Fire.
The Hollywood Reporter confirmed that Chloe Grace Moretz will star in the film, an adaptation of Susannah Cahalan's memoir from 2012. Charlize Theron is producing Brain On Fire, while Gerard Barrett has been hired to direct. Moretz landed the role after Dakota Fanning dropped out of the production due to a scheduling conflict, while Me & Earl & The Dying Girl's lead Thomas Mann has already signed on for the feature too.
Clearly Charlize Theron must have been impressed with Chloe Moretz's talent when the pair worked on the impending Dark Places together. The thriller, produced by A24, is due to hit screens on August 7. But this could now be Chloe Grace Moretz's time to really shine and prove to Hollywood that she is ready to move her career to the next echelon.
Brain On Fire possesses the perfect material to showcase Moretz's acting ability as it revolves around a young woman's struggles with a mystery illness, which results in her going insane. Written by Susannah Cahalan, Brain On Fire: My Month Of Madness was released on November 13, 2012. It was met by mostly positive reviews, and in May 2014 it was announced that Theron, through her company Denver & Delilah, wanted to bring the book to the big screen.
Brain On Fire recounts how Cahalan, who at the time was a writer for the New York Post, was ultimately diagnosed with encephalitis after several issues with anti-NMDA receptor encephalitis. Cahalan also lost an entire month from her memory, and after waking up in a hospital she was informed that she'd had several violent episodes and delusions. This diagnosis was complicated by several miss-diagnoses from doctors, with one insisting that she was simply "partying too much" and another stating that she actually had schizoaffective disorder. Finally, she was diagnosed with an autoimmune disease.
After coming to grips with her disease, Cahalan has since helped to raise awareness of her condition, which is relatively new. In fact, it had only been discovered just three years before she was diagnosed, and only 10% of people with the disease were actually being treated. Because of Cahalan's work, a better understanding of the disease and its symptoms has been gathered.
There's certainly enough there to showcase Moretz's burgeoning talent. Before then we'll get to see her when Dark Places hits later this summer, she also appears in the sci-fi thriller The 5th Wave, which will be released on January 15, 2016, and she just finished filming Sacha Gervasi's November Criminals with Ansel Elgort . So you better get used to seeing her around over the next few months.
Your Daily Blend of Entertainment News